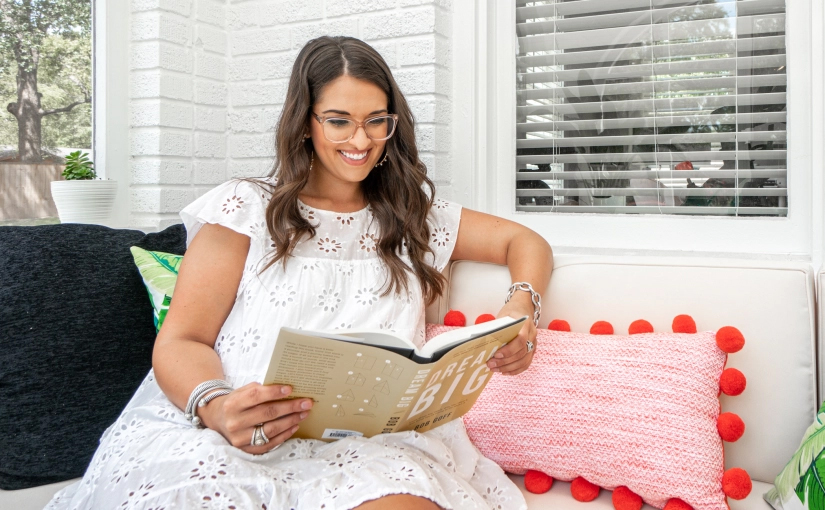 Keeping it sunny, keeping it cute! Whether it's chilly or toasty outside, a sunroom has already been a MUST on my home wish list. There's just something about being able to sip on coffee in a screened-in porch that gives me all the homey vibes I could dream of. It's the little things that make the smallest home feel the coziest.
You've seen all the beauty and glory of the interior of The Dollhouse, so now it's time to show you one of my favorite rooms that truly took the most creativity… my sunroom! It is located at the back left corner of my house and is what I like to call the perfect wine-drinking room! There were some debates on adding a half bathroom to my home, but it would have needed to be where the sunroom is and that was just a non-negotiable for me to take such a fun room away.
The good news from when I purchased The Dollhouse is that the bones for the sunroom were already there. The room just needed a little bit more fun and a whole lotta love to make it more me! I always had this vision of black and white hand-painted flooring with cedar-colored furniture and while the vision shifted here and there, it truly came out to exactly what I was envisioning.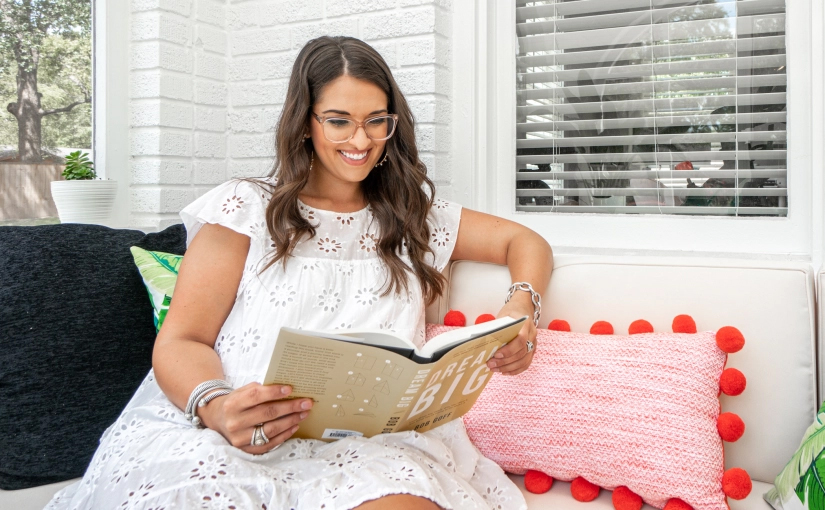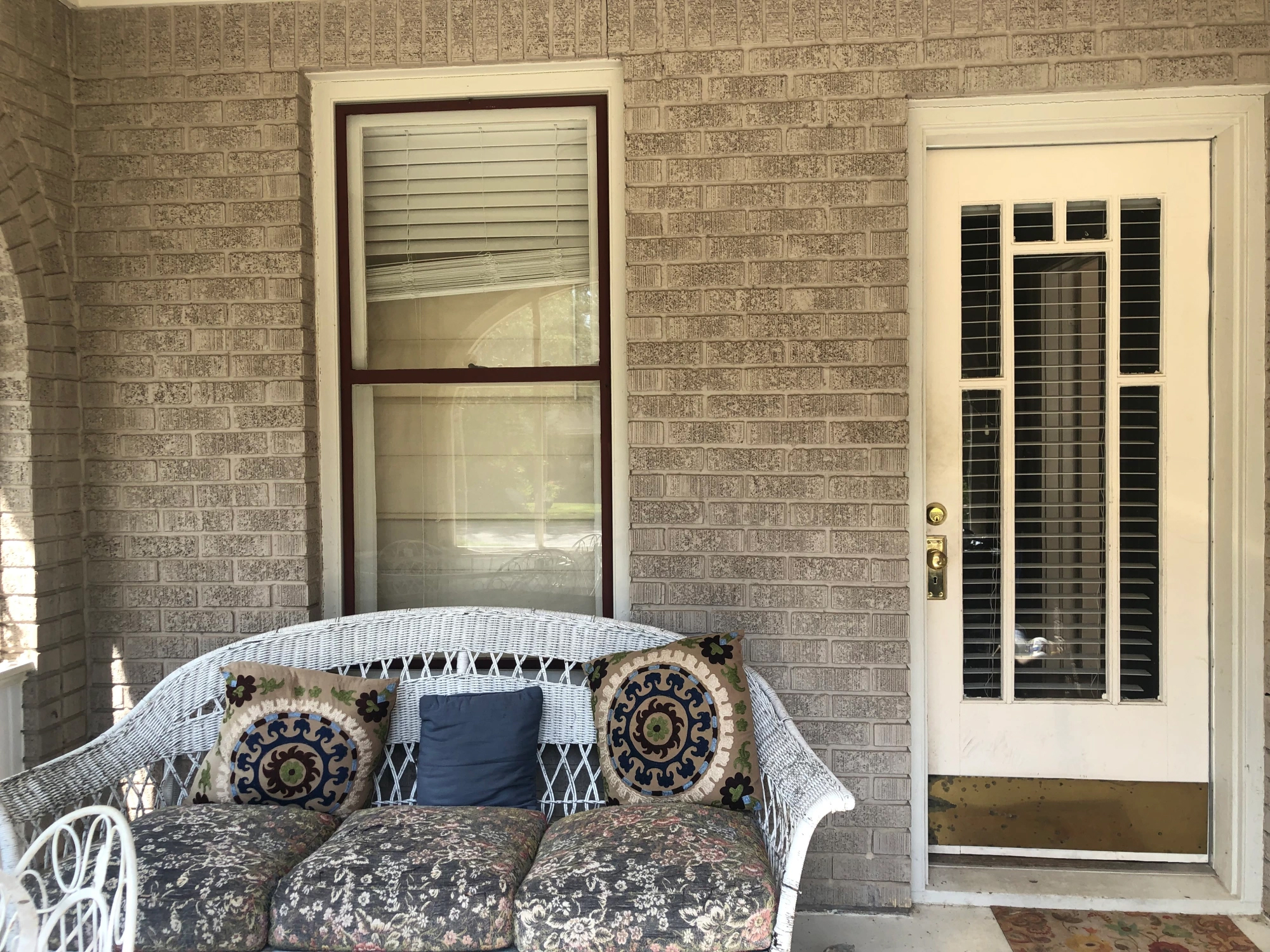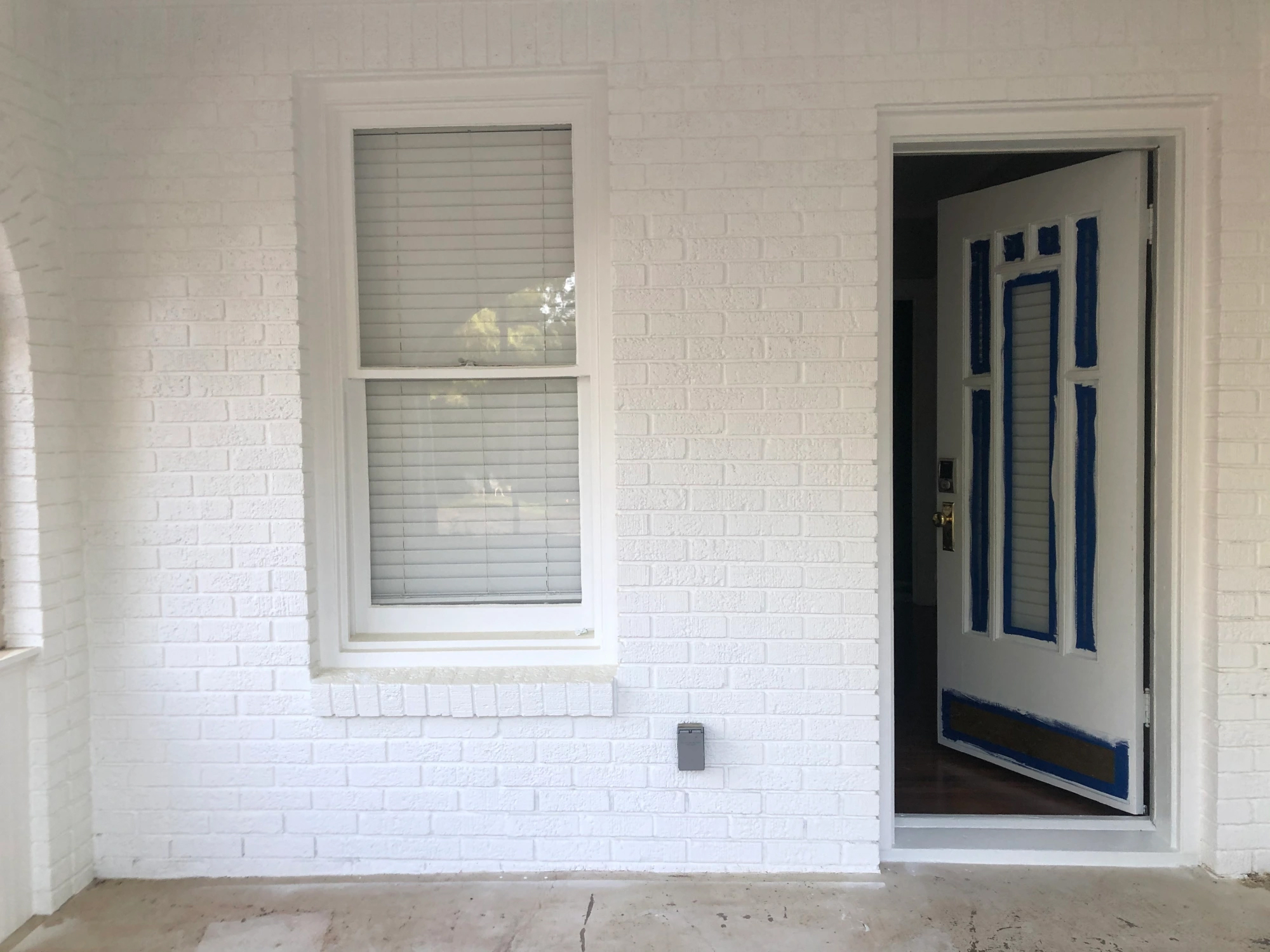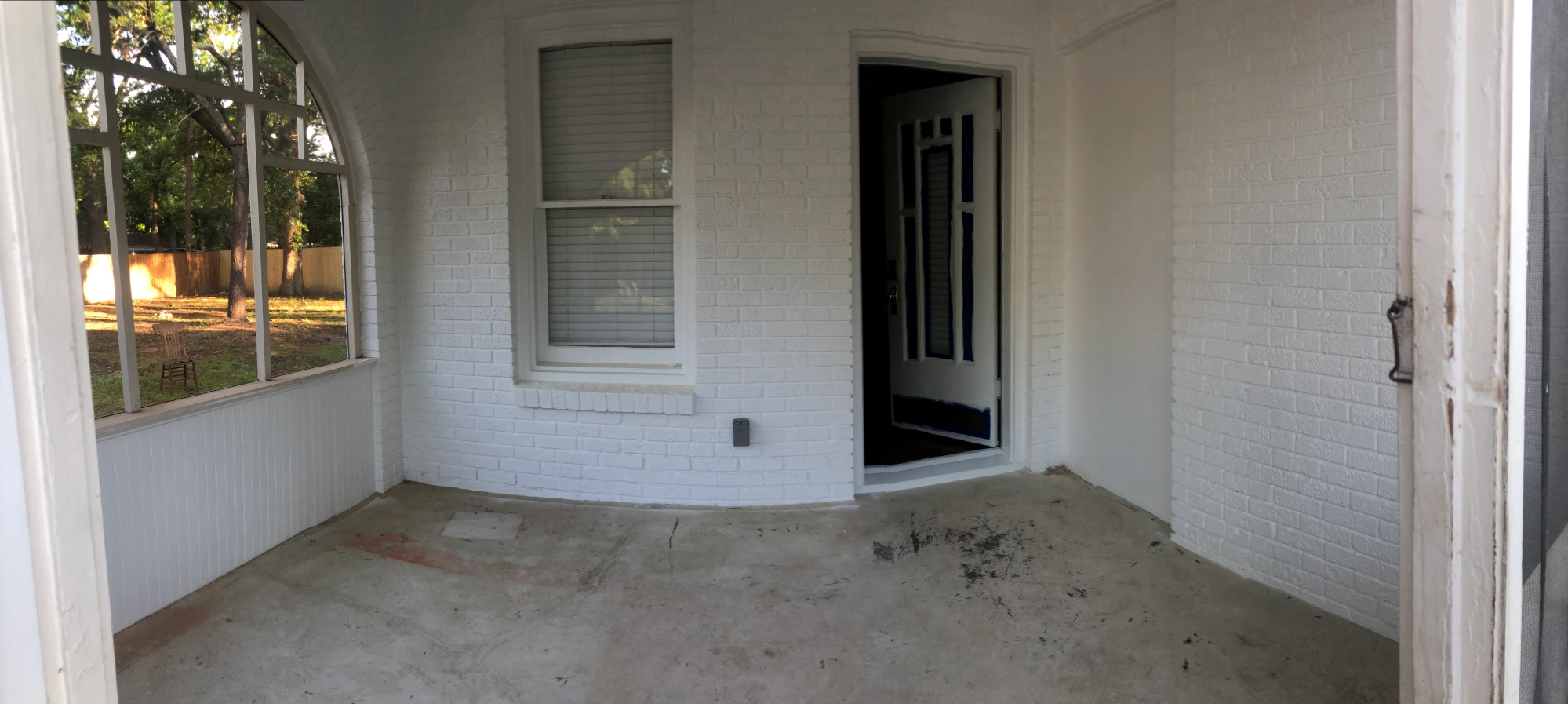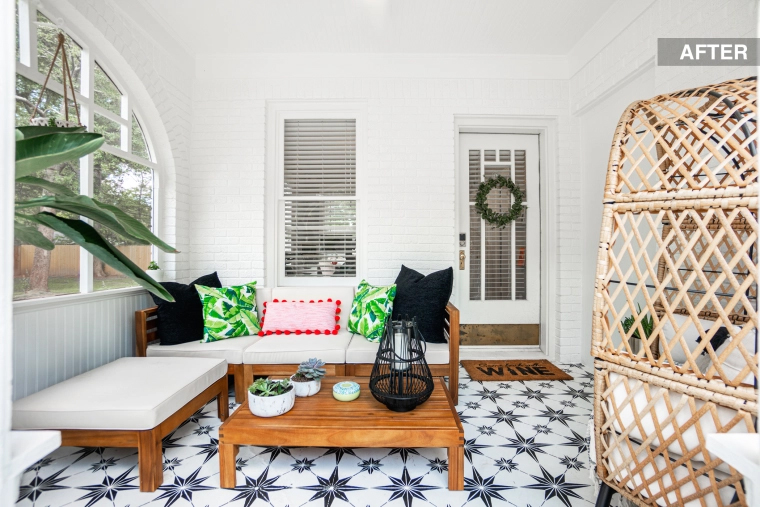 Matching the brick with the exterior white color and having the painters also paint the concrete floor white really was the biggest game changers before decor and stencil painting came into play. My mother and I hand-painted the floor with a stencil and while it was totally worth it, it was quite the ordeal to have done. This was the perfect sized space to hand stencil, but anything larger than this room would have been quite the job to take on.
I plan to do a blog post going into full detail on how we stenciled the floors because there are a lot of different details that helped throughout the process. In a summed-up version, though – it took me about two days to stencil the floors and a hand dobbed with a round paintbrush. I learned very quickly that sponges seep through underneath the stencil and had to redo a couple of portions. My biggest blessing was having a high-speed fan to help the paint dry faster but the hardest part was the edges. My worst edges thankfully have furniture over them, so I didn't feel like I had to be as much of a perfectionist.
This is one project that my Dad did not touch at all as I (the painter contractor's daughter) wanted to prove I could handle it. He was actually very impressed, but no worries I did consult on types of paint and he made me veer away from sealing it as it's white and outdoor so the weather changes may turn it to yellow once sealed.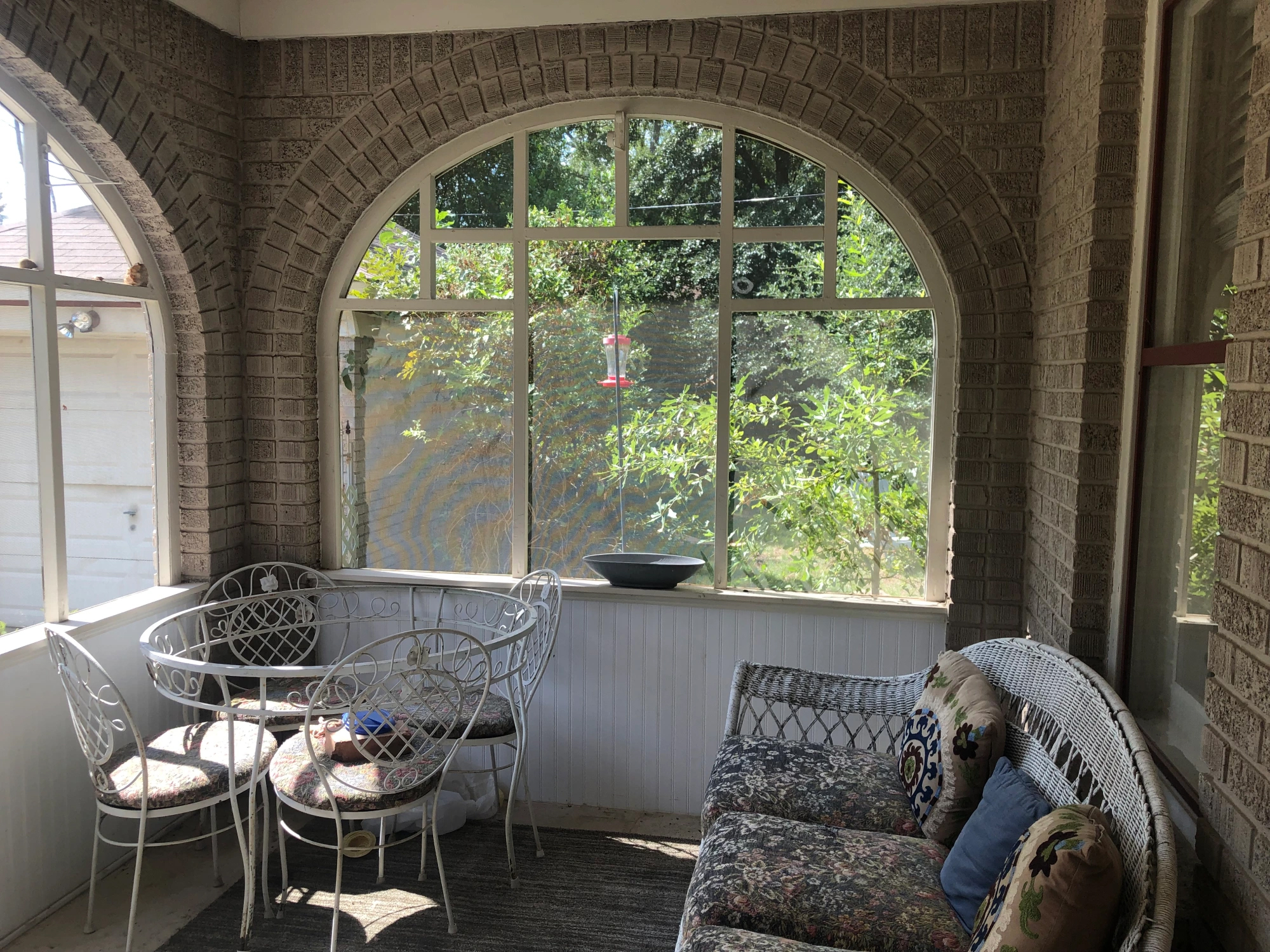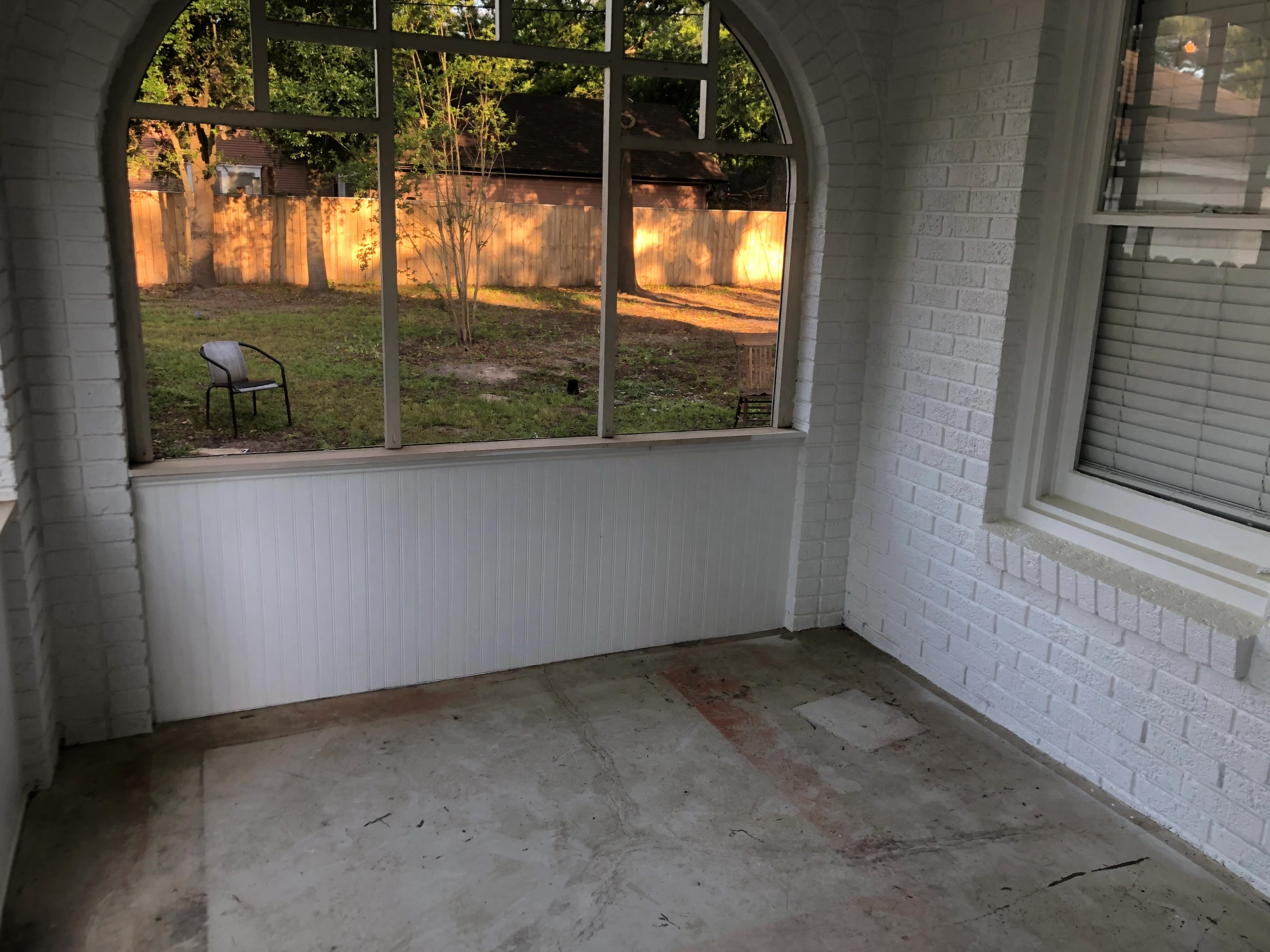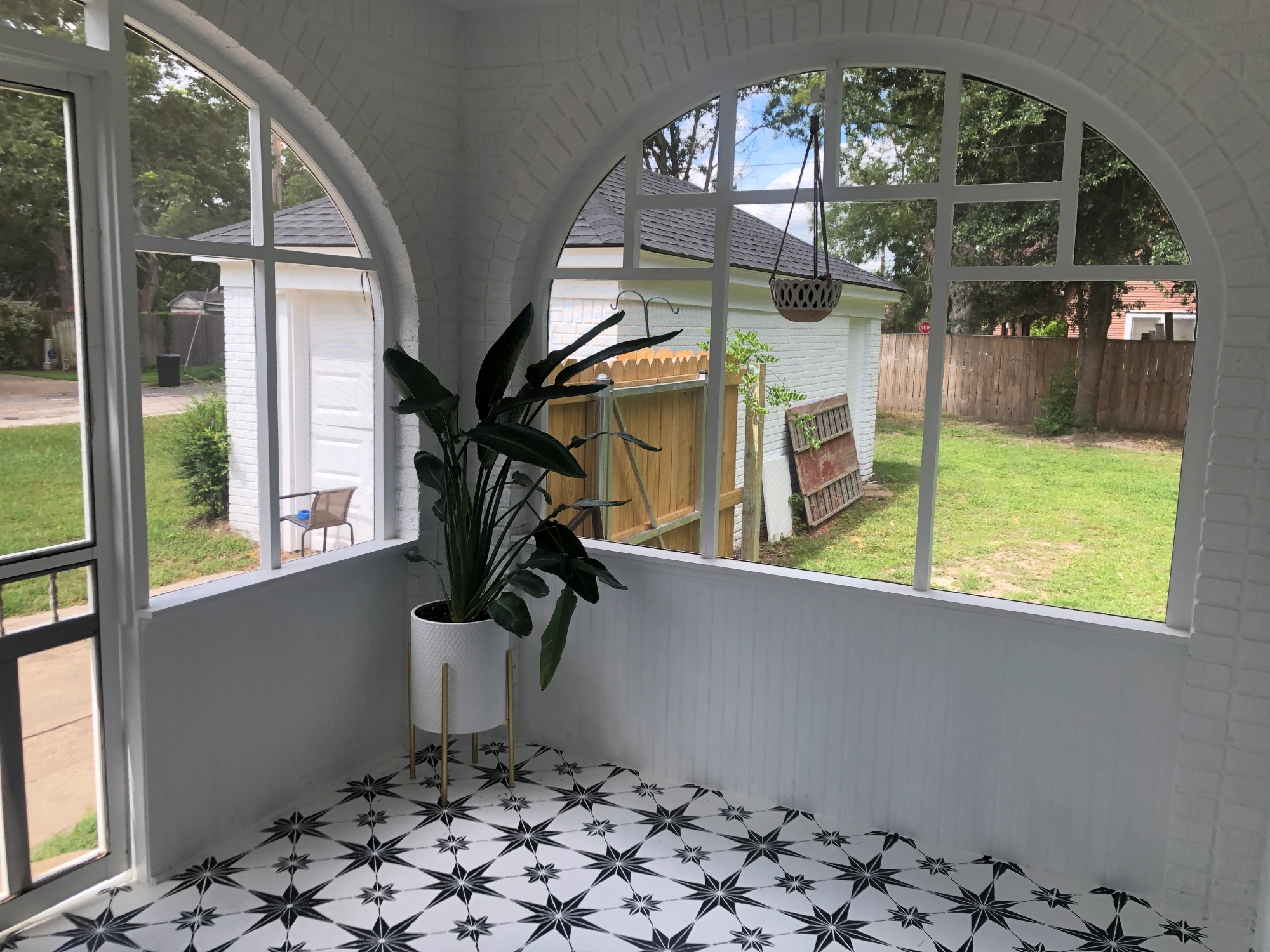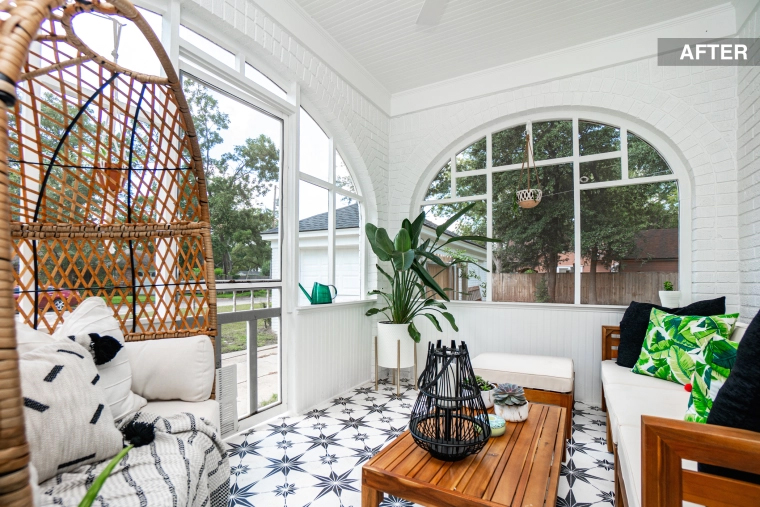 What I really wanted this room to have were those black and white accents with pops of green full of plants and pillows that made me look like a crazy plant lady although they're almost all succulents that don't need much love at all. Work smarter and plant easier, y'all!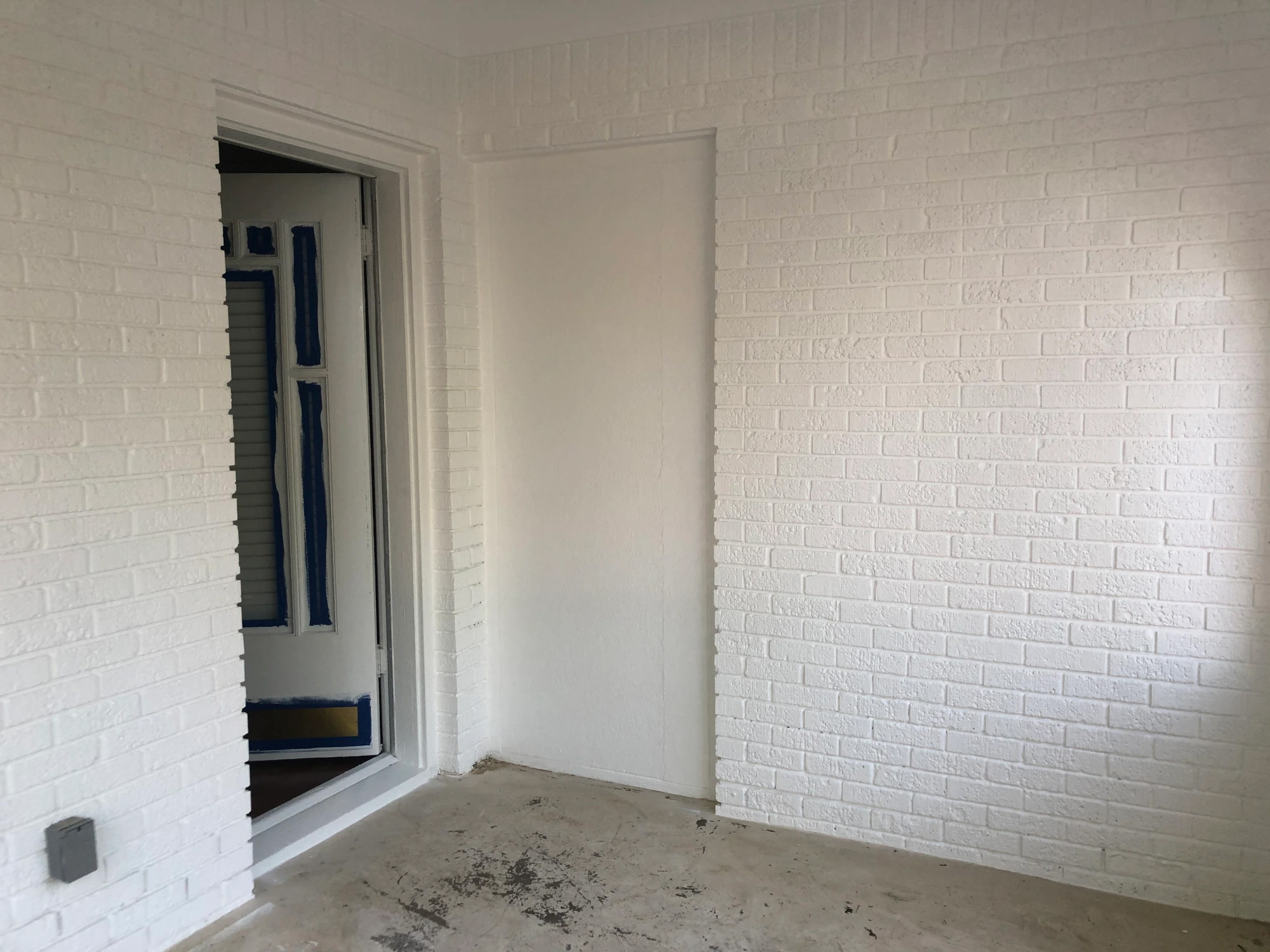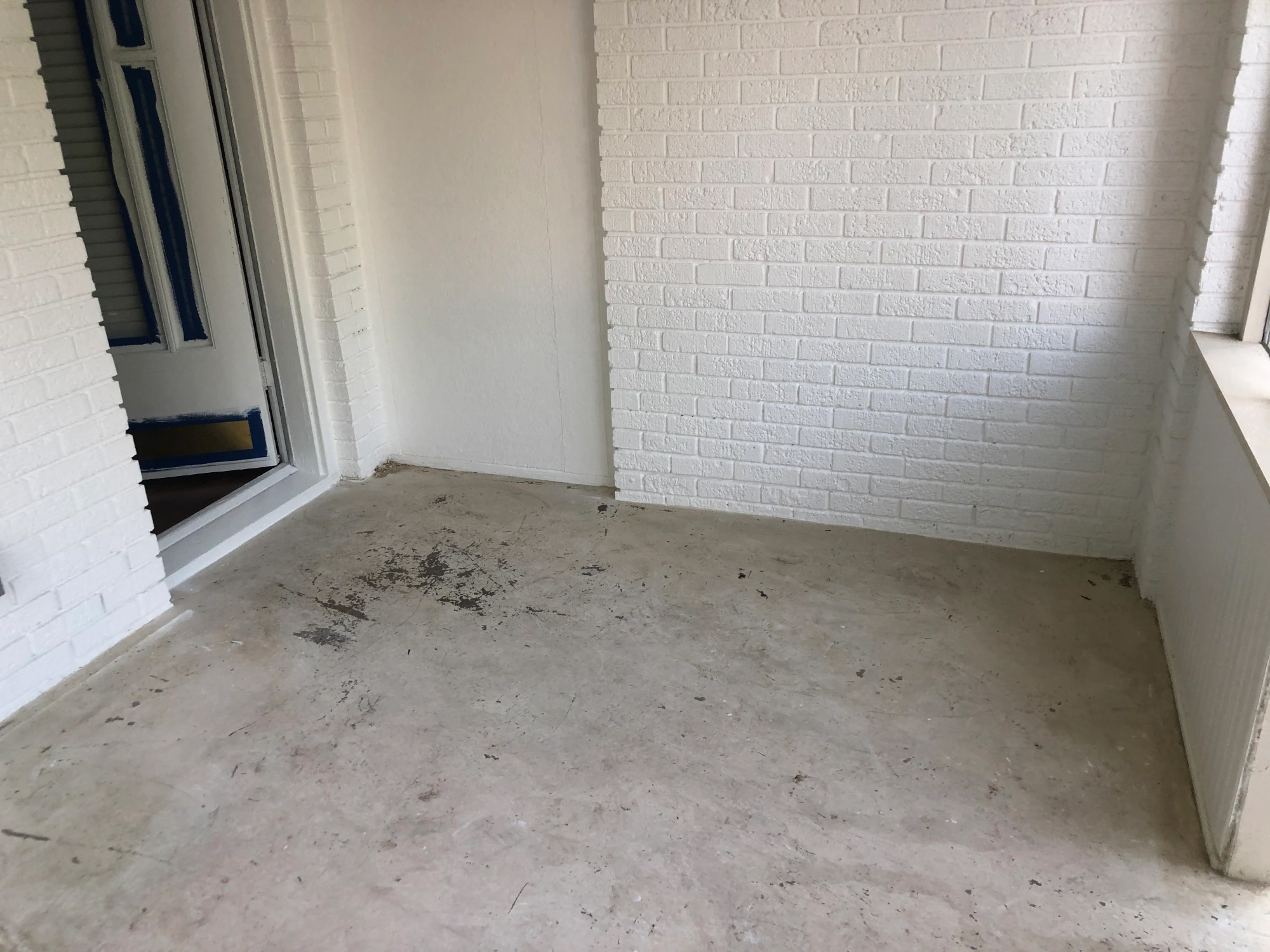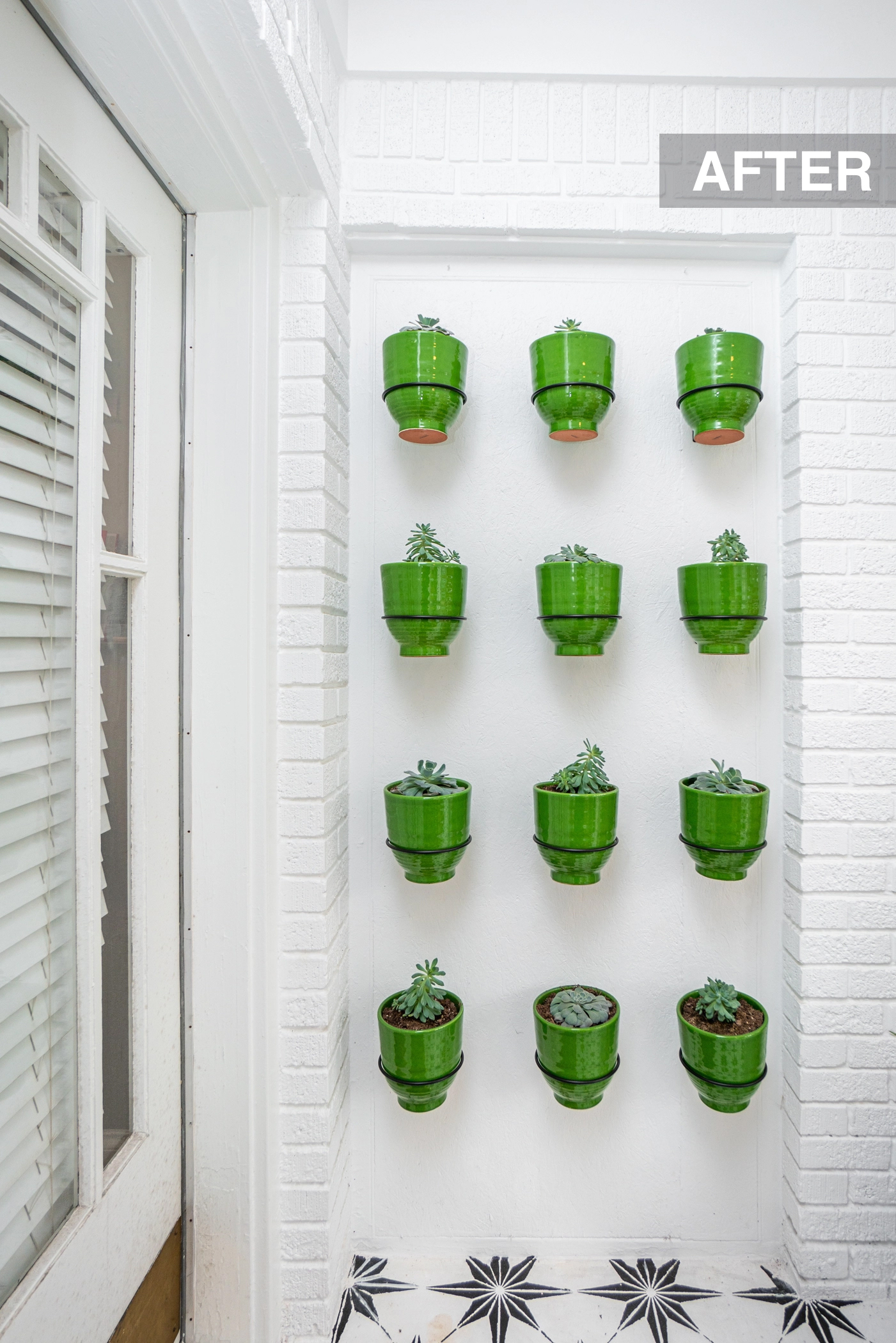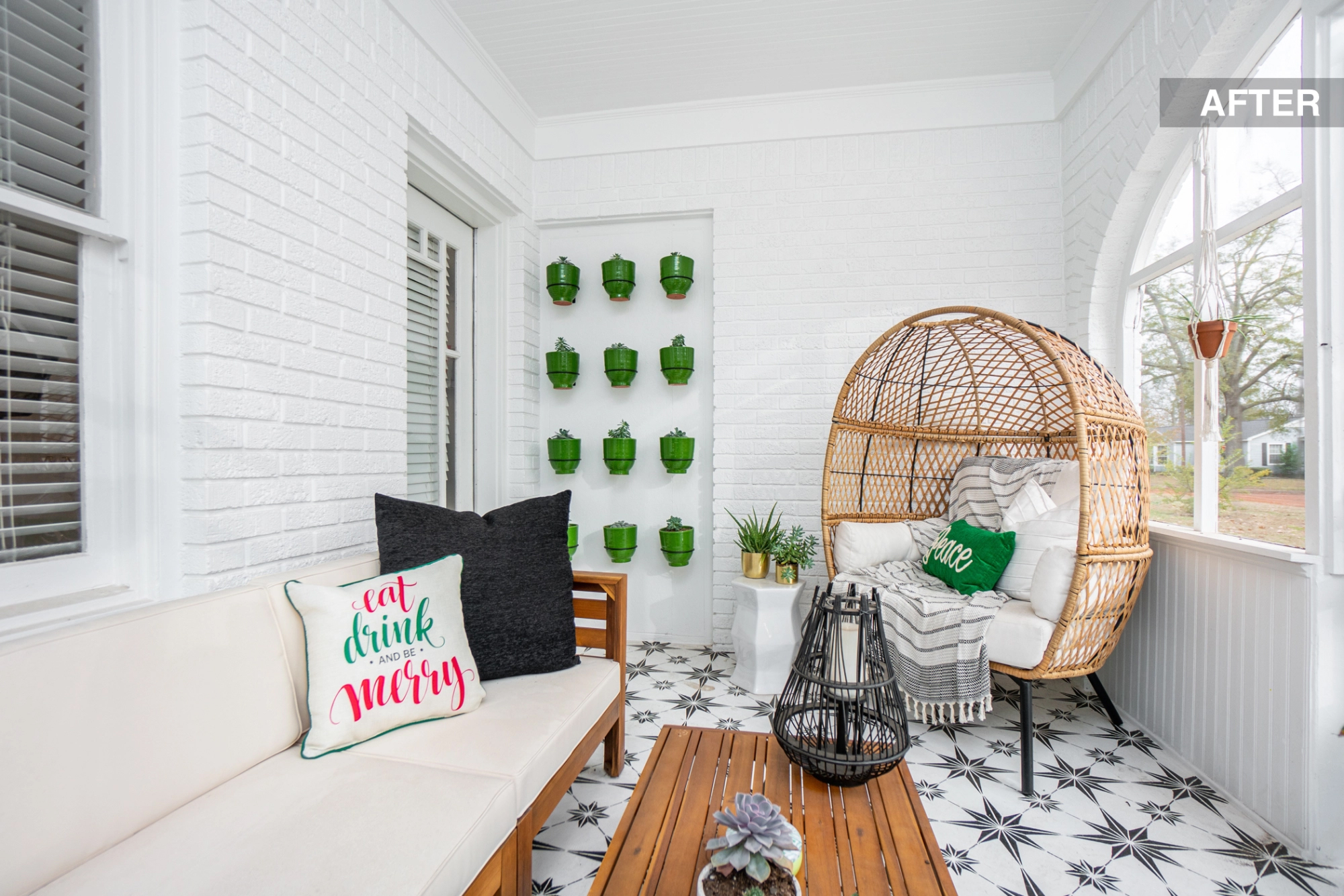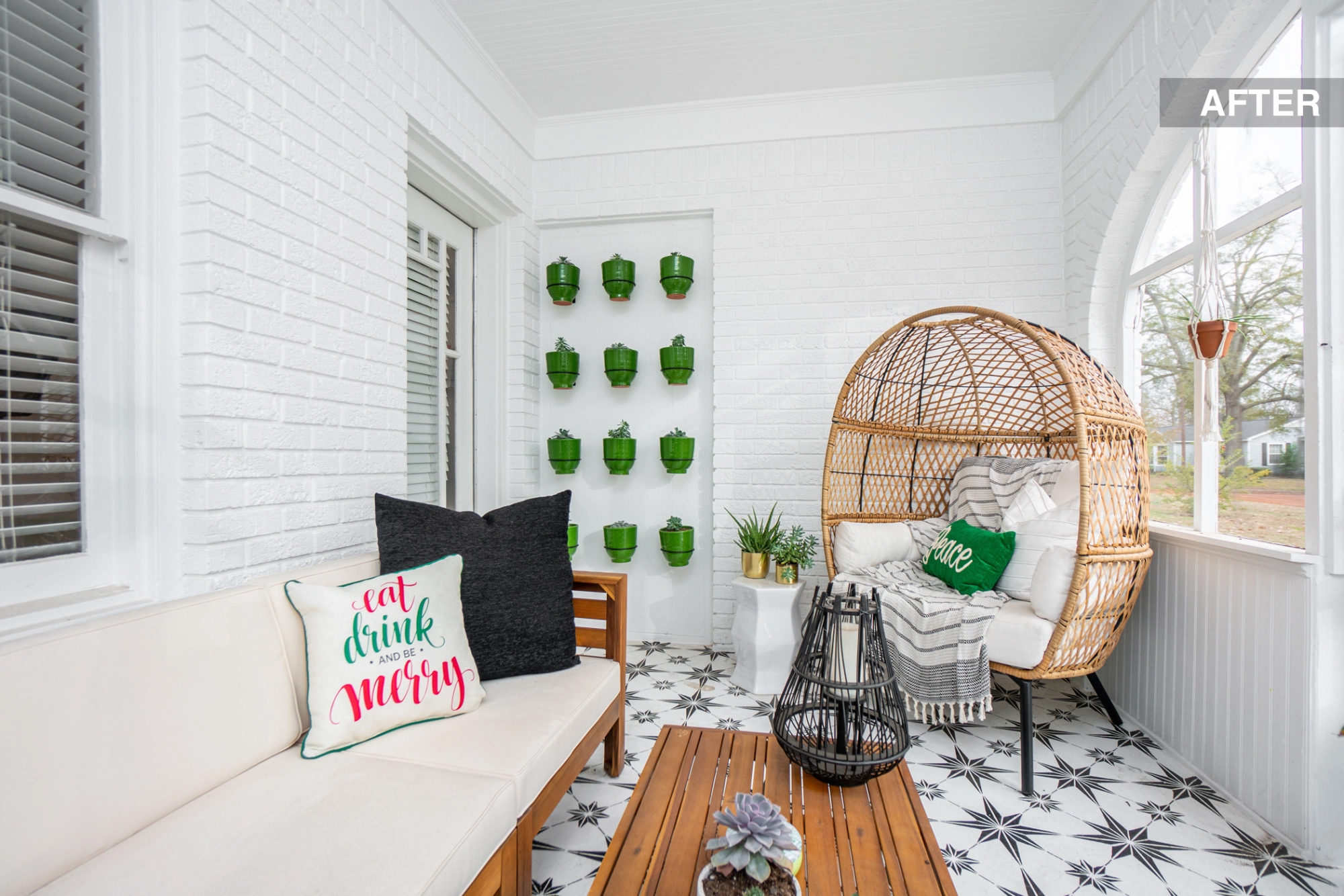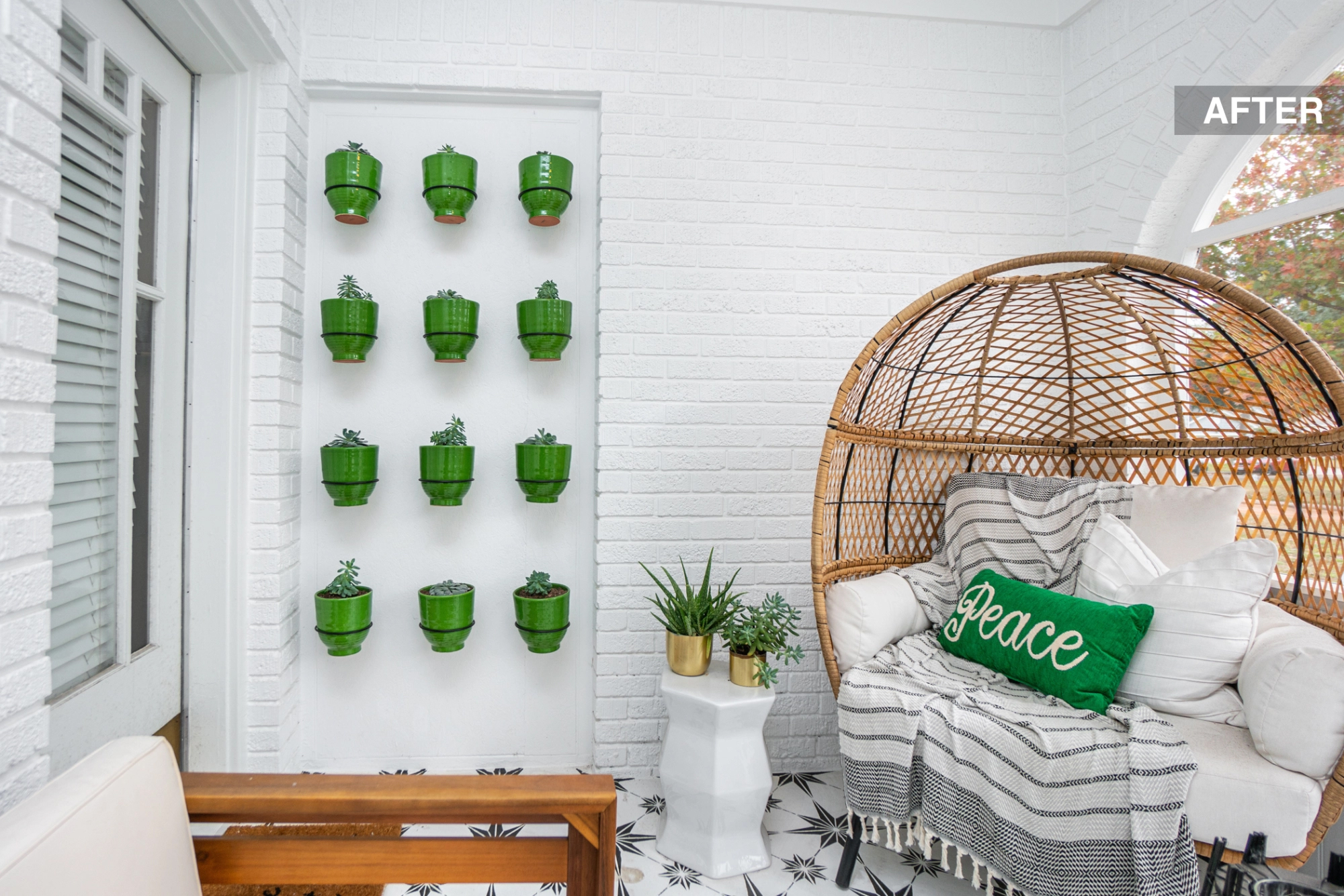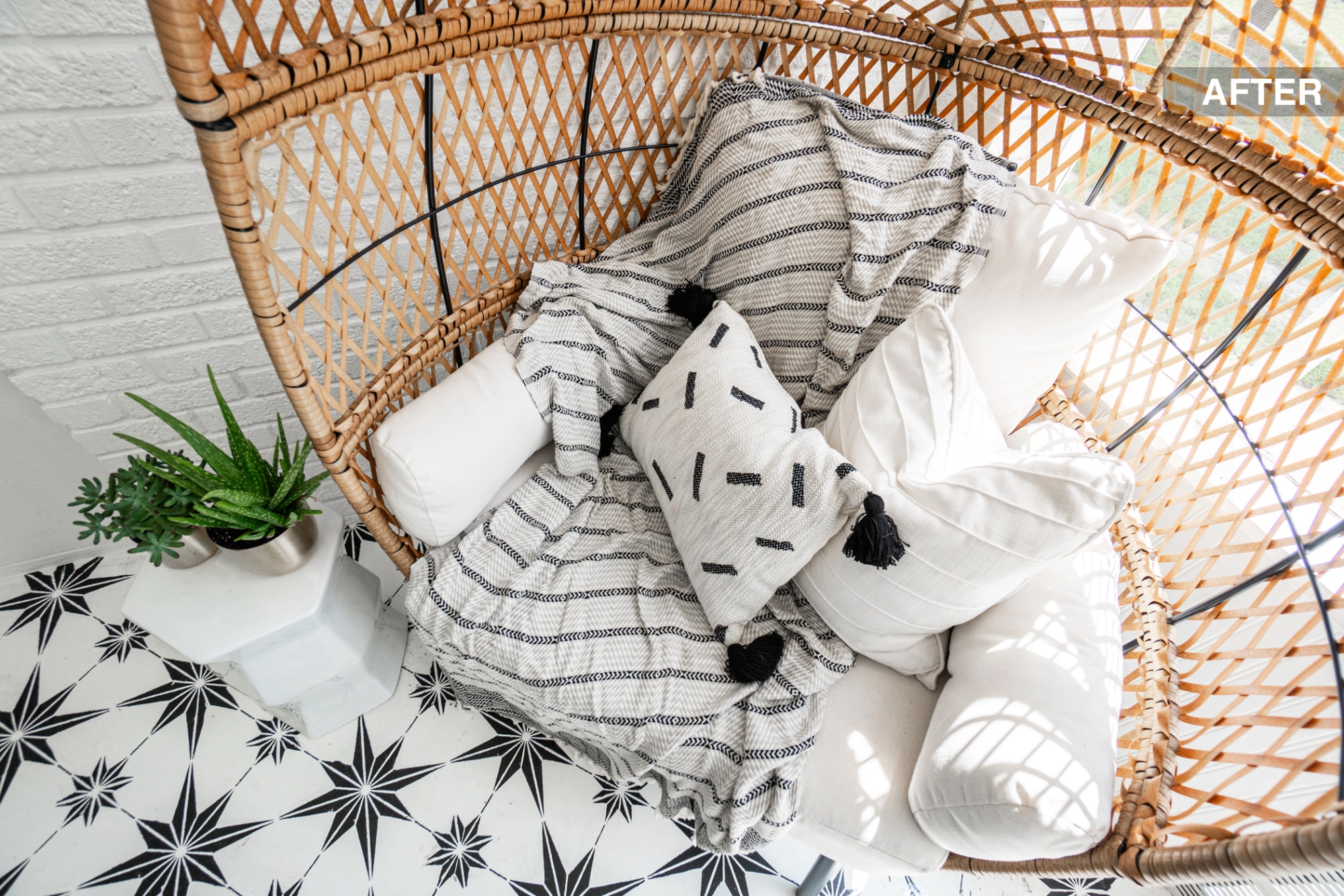 This last section is by far my FAVORITE! Where the now plant wall is was once a door to my bedroom that we had closed in. The door made the inside of my master bedroom very choppy and awkward and closing it in truly changed the layout of that space. Once we closed and insulated this doorway, I was tasked with what to do to make this not quite look like an old door. There were many options: brick it in, paint it, add shelves and so on. I felt that you would still be able to see the bricked-in section and it wouldn't look natural if we went that route. Shelves wouldn't be deep enough to hold enough plants or watering jugs but then I thought what about a plant wall?!
I am so, so pleased with how this plant wall turned out. Both the hooks and the planters are from Crate and Barrel. I really let my Dad (y'all he's the best for all the projects I had him do!!) take the lead on this project with measurements and distancing of the planters. He was very exact and wanted to be able to measure the planters and plants inside them to see the proper distance of what was needed. It was a task that took a couple of hours on a Sunday afternoon, but didn't they turn out great? It's just the perfect pop on the wall that was once a doorway and feels far more natural of a focal piece than anything else did. This sunroom is my perfect like outdoor oasis and I've enjoyed making it my little wine-drinking room for my friends, family, and me!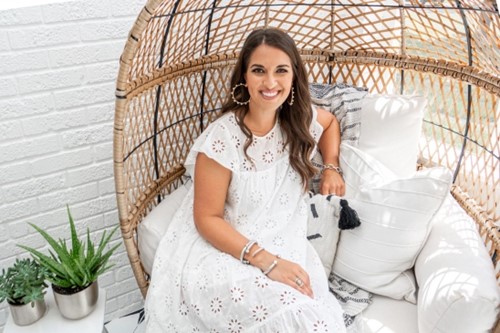 Thank you always for following along on my little Dollhouse journey!