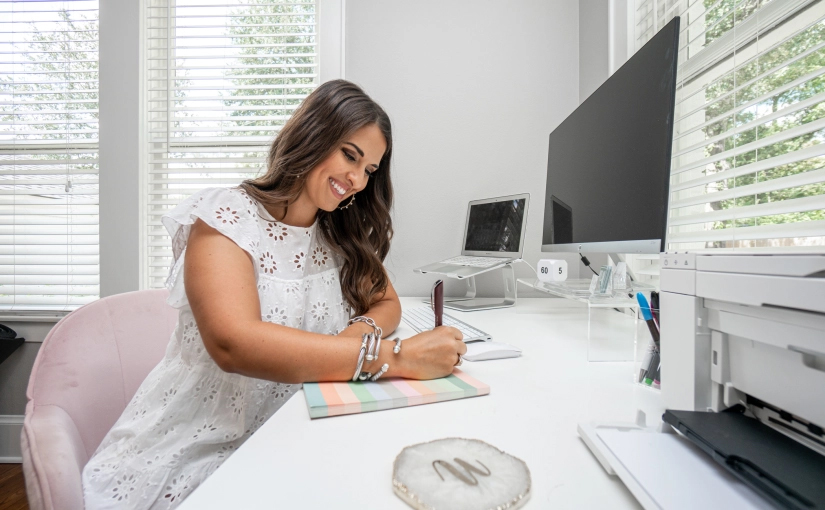 Working from home is the new reality for most of us in 2020. In most homes, it's basically looked at as a luxury to have a designated and separate workspace, and is honestly desired by most buyers. The back room in The Dollhouse was a TV room when I bought it, but I wanted to turn it into a potential bedroom that also served as an office space and workout room.
The original room was something, y'all! There was fabric wallpaper. Yes, like a wall of curtains collecting all the dust and dirt it wanted to over time. Talk about an asthma attack waiting to happen! I appreciate the vibe that these fabric walls once gave, but they had their moment and it was time to graduate to a fresher look. It was surprisingly super easy tearing down the fabric and taking out the Styrofoam ceilings. The demo was probably the smoothest for this space and I was thankful for that!
The biggest challenge this room provided was the TV cabinet. I wanted to turn this cabinet into a closet to make it a room. Did you know that in order to be considered a bedroom there must be a closet? It wasn't difficult to tear it into a closet, but it was challenging determining the size it would be. The back of the closet lined up to the kitchen where the refrigerator was placed. I battled with doing a skinnier fridge for more closet space but am so happy I went with the larger fridge size and sized down that bonus closet. It's now used as a dress closet (like a true dream for me to have an individual closet for my daily dresses) and it can in the future be used as a bonus room or nursery for growing families down the road. I've learned from real estate to never take away a functional bedroom, just utilize it for your needs – but keep the closet!
OFFICE SPACE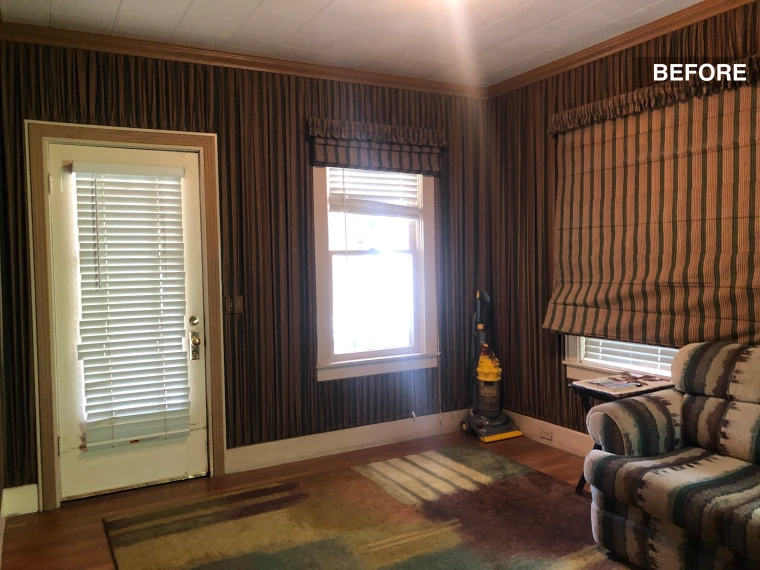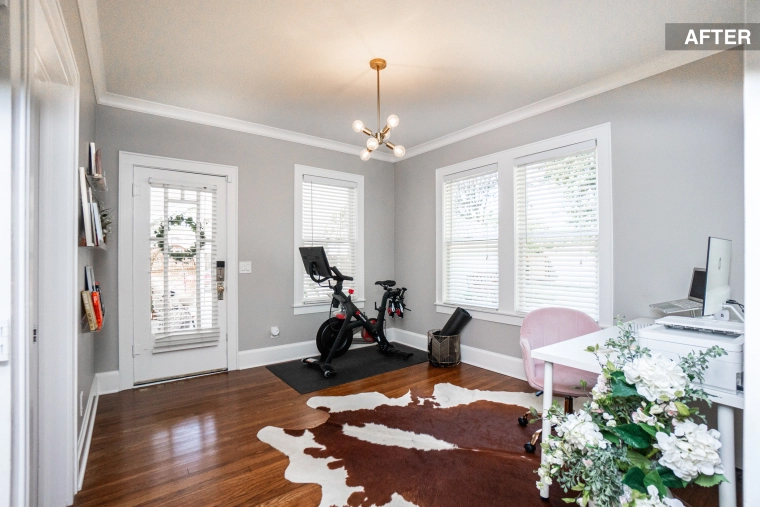 Cosmetic updates were really all this office space needed! A little TLC getting rid of that wild fabric, refinishing hardwoods, and adding in a nice little gray wall with a pop of gold from my light fixture, and BAM! I needed this room to flow as a workspace and workout room. It also doesn't hurt to bring in a little bit of my agriculture roots and add in some Hereford hide. I seriously looked everywhere to find the right type of rug that could work for a corner desk and then thought about how a Hereford hide rug might just work and boy did it!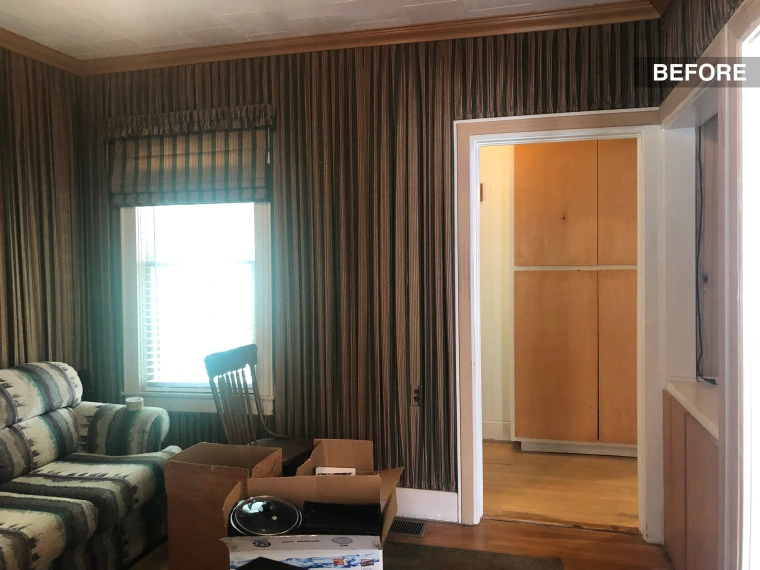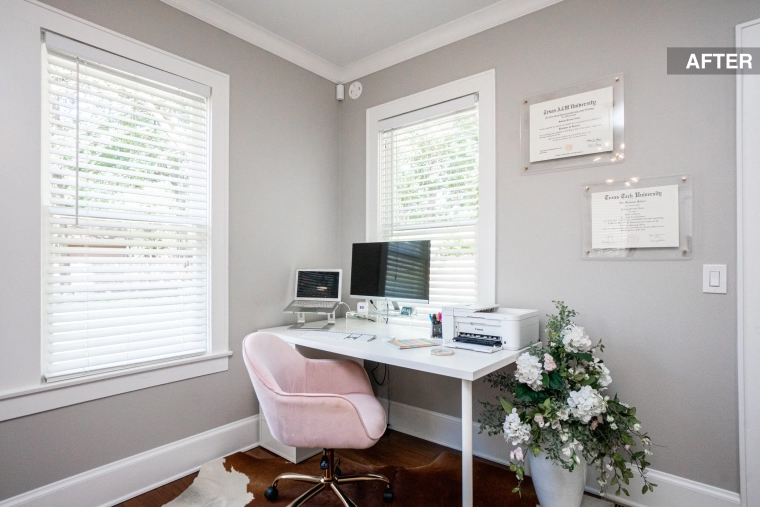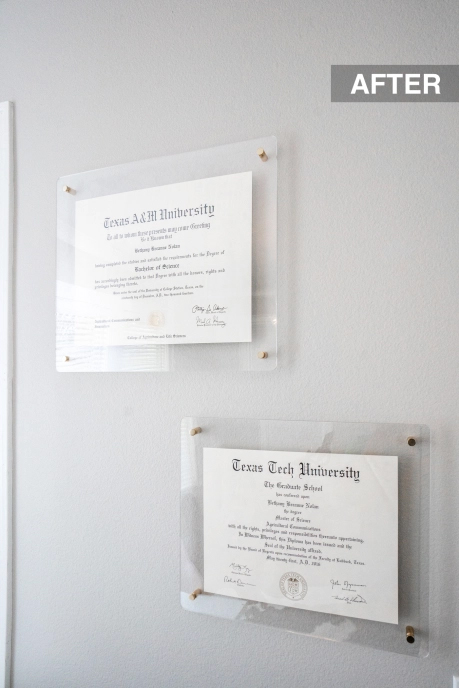 I honestly had to move my desk around a couple of times before I found the right flow and layout I wanted for my office. The first desk I bought was a beautiful wooden mid-century desk, but it truly wasn't big enough to fit my computer, monitor, and printer. I love, love this Ikea desk that is wide enough yet deep enough as well for me to lay out my thank-you notes or write to-do lists. You would be surprised how difficult it is to find a simple white desk without weird accents on it.
My diploma frames are hands down my favorite! I had the original and traditional diploma frames with the college crests, but it just wasn't fitting the vibe of the room. I took a chance on ordering these custom floating acrylic frames and they're simple enough yet also show off my undergraduate and master's degrees. They needed a place to shine – and this was the space!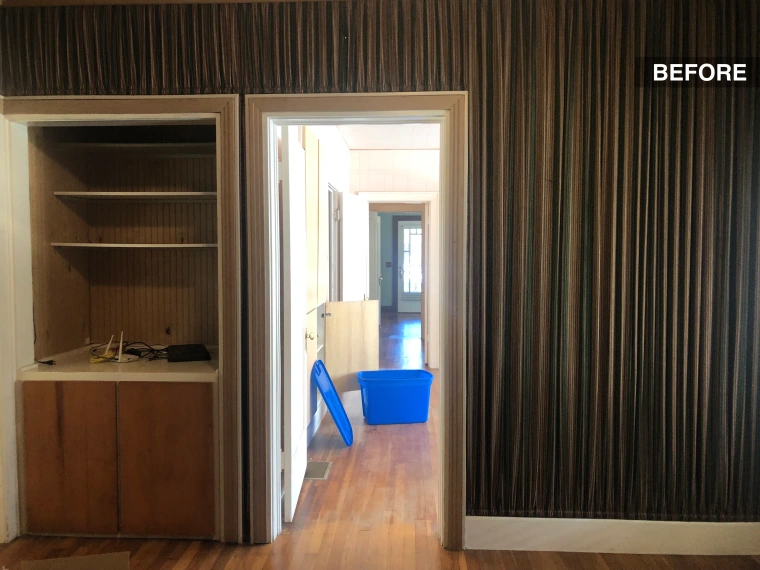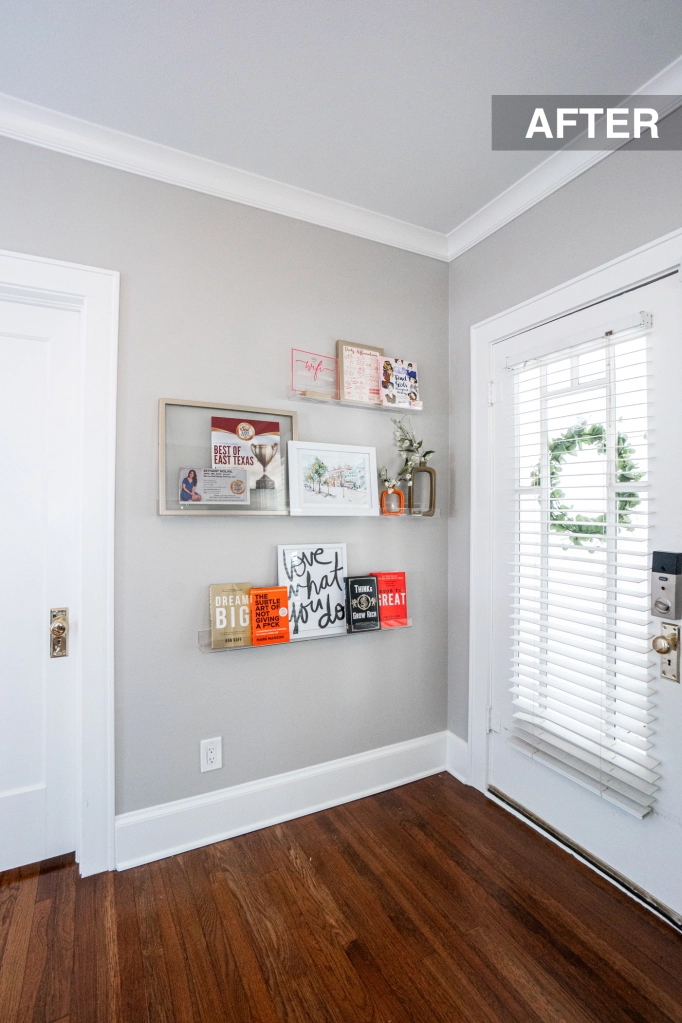 With this small wall space, I originally thought that I wanted a big gallery wall (which could have been cool). I know myself well enough to know that the second I put up a gallery wall I wouldn't love the placement or the art and would want to completely redo it. I thought on it for a while and found a better solution, which was to do shelves and treat the decor like a gallery wall. These acrylic shelves give more attention to the decor and awards and don't overwhelm the space. I can change it up seasonally and move around books or awards as I feel the need!
It's all about that work-from-home flow and I've set my office space up to do just that! It's simple yet has all the finishes and touches that just work for me. This room flows right off my sunroom, enters to my master bedroom, and goes to my pantry/kitchen area. Because there are so many different access points, it really is the perfect space for my office. Hope you enjoyed this peek into The Dollhouse!