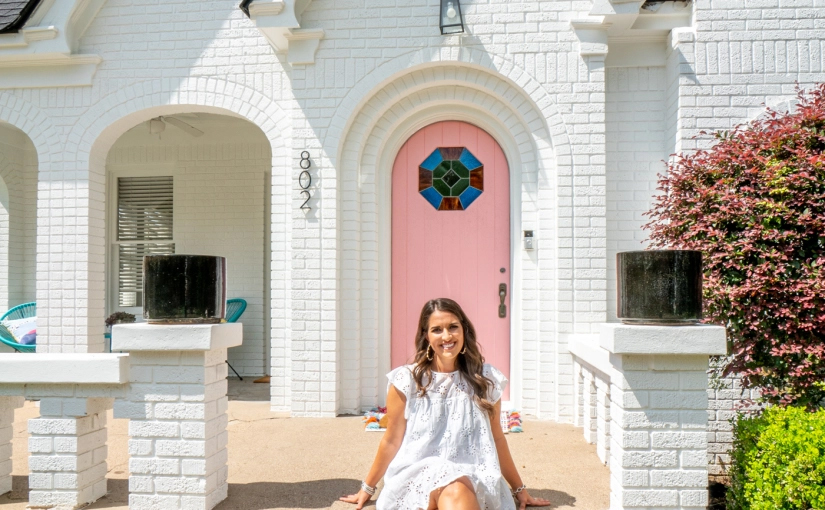 Now that you've seen all the glory of The Dollhouse's kitchen, it's only natural that I reveal the two rooms that are attached to it – the dining room and breakfast nook! These are two rooms that simply just got a cosmetic facelift. It really is wild, though, how some paint and the right decor can add to a space.
After tearing down the wall between the kitchen and dining room, the biggest challenge for me was how to fill up the dining room with furniture and decor that allowed enough room to roam. In case you haven't noticed, I'm all about the flow from room to room! It was most important to me to have ample seating space that didn't go against what I chose with bar stools on the kitchen island but also leave space to potentially have an additional table in the dining room for future Friendsgivings or Cookie Exchange parties.
The biggest pieces that were my statements for both the dining room and breakfast nook were the light fixtures. I wanted the mid-century vibe and charm that comes with an older home. A little updating goes a long way!
THE DINING ROOM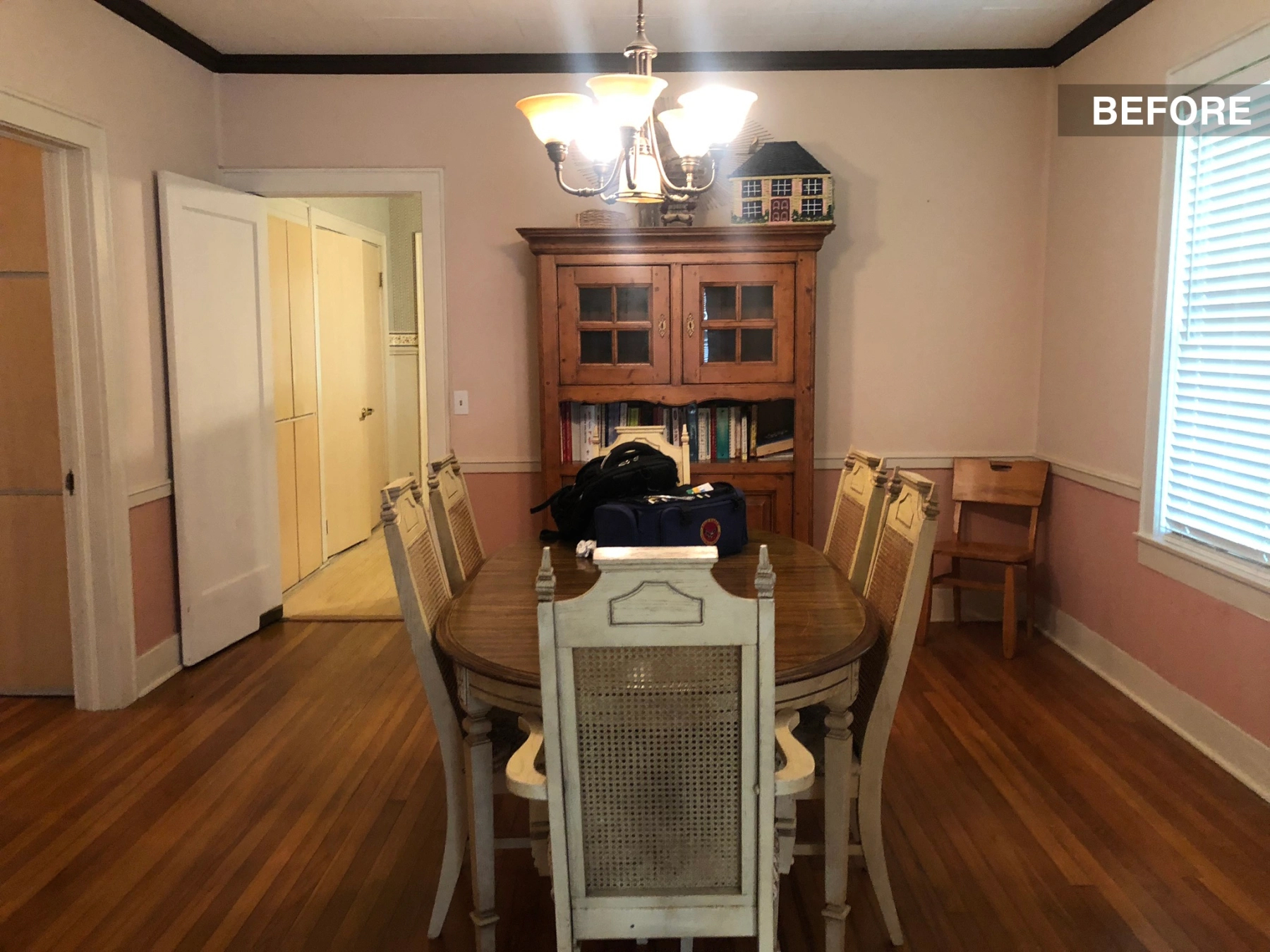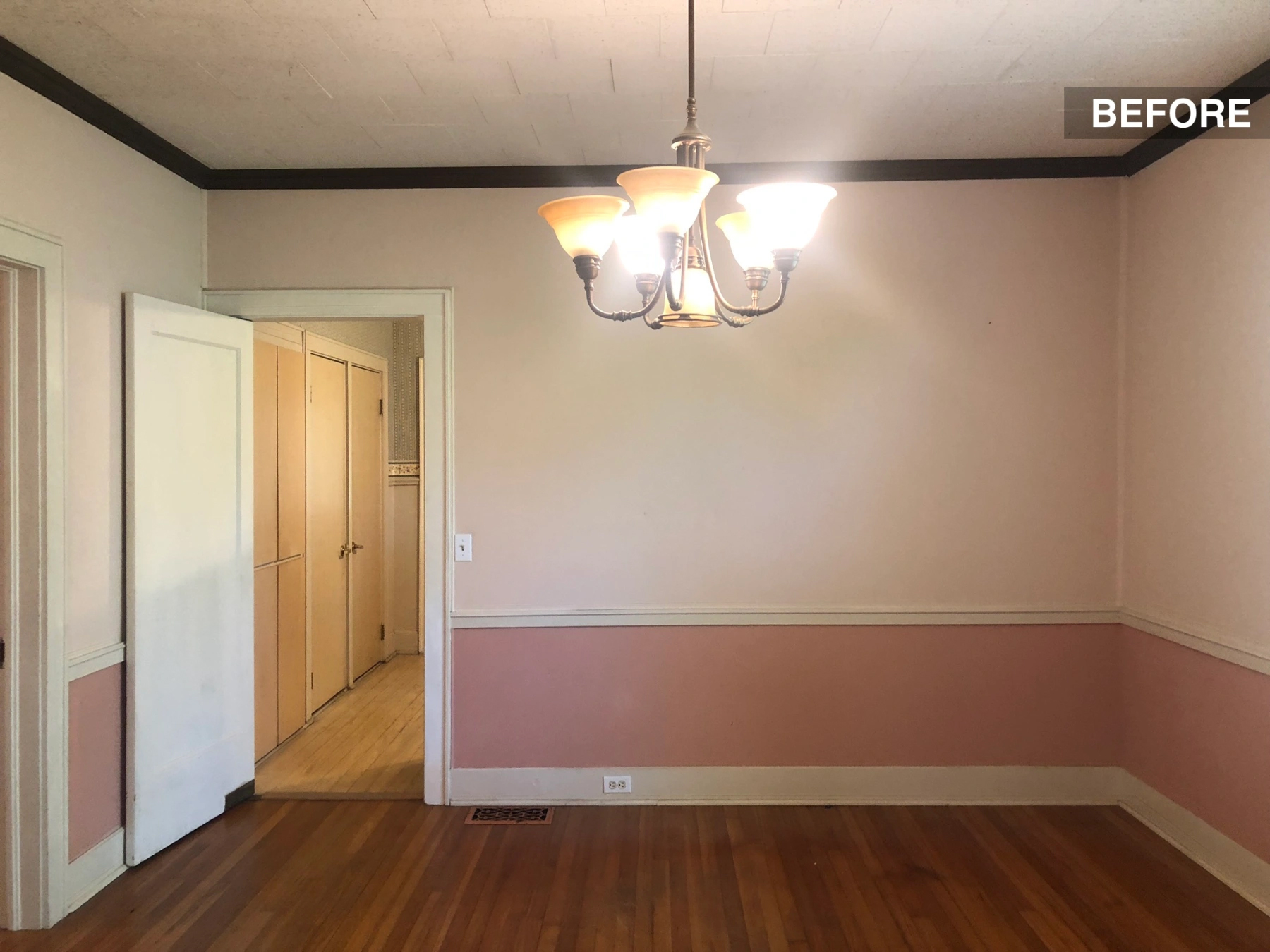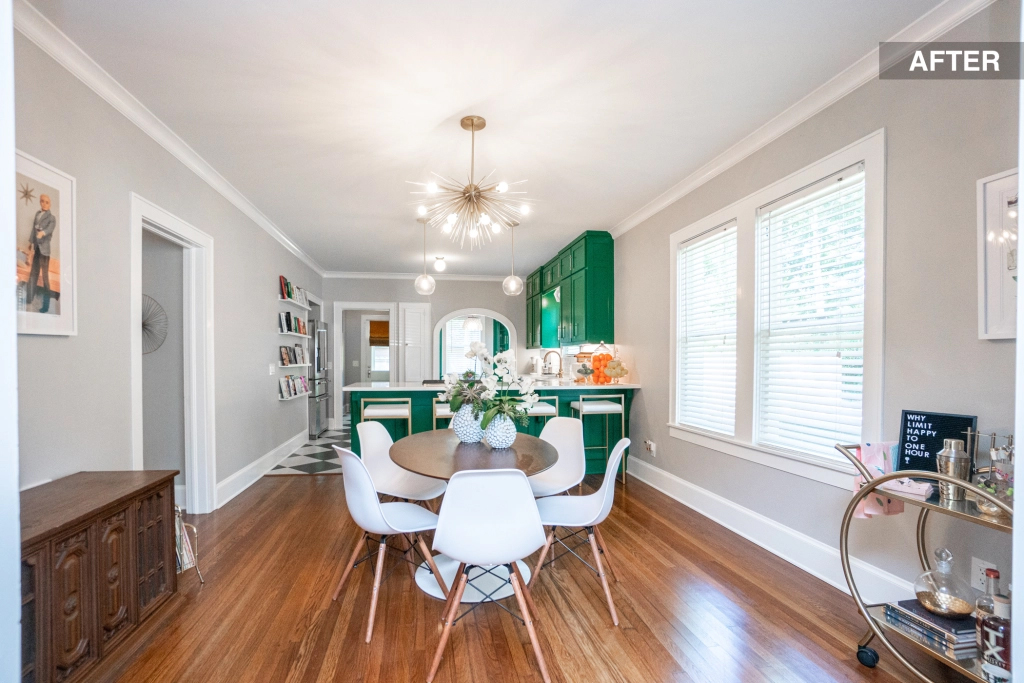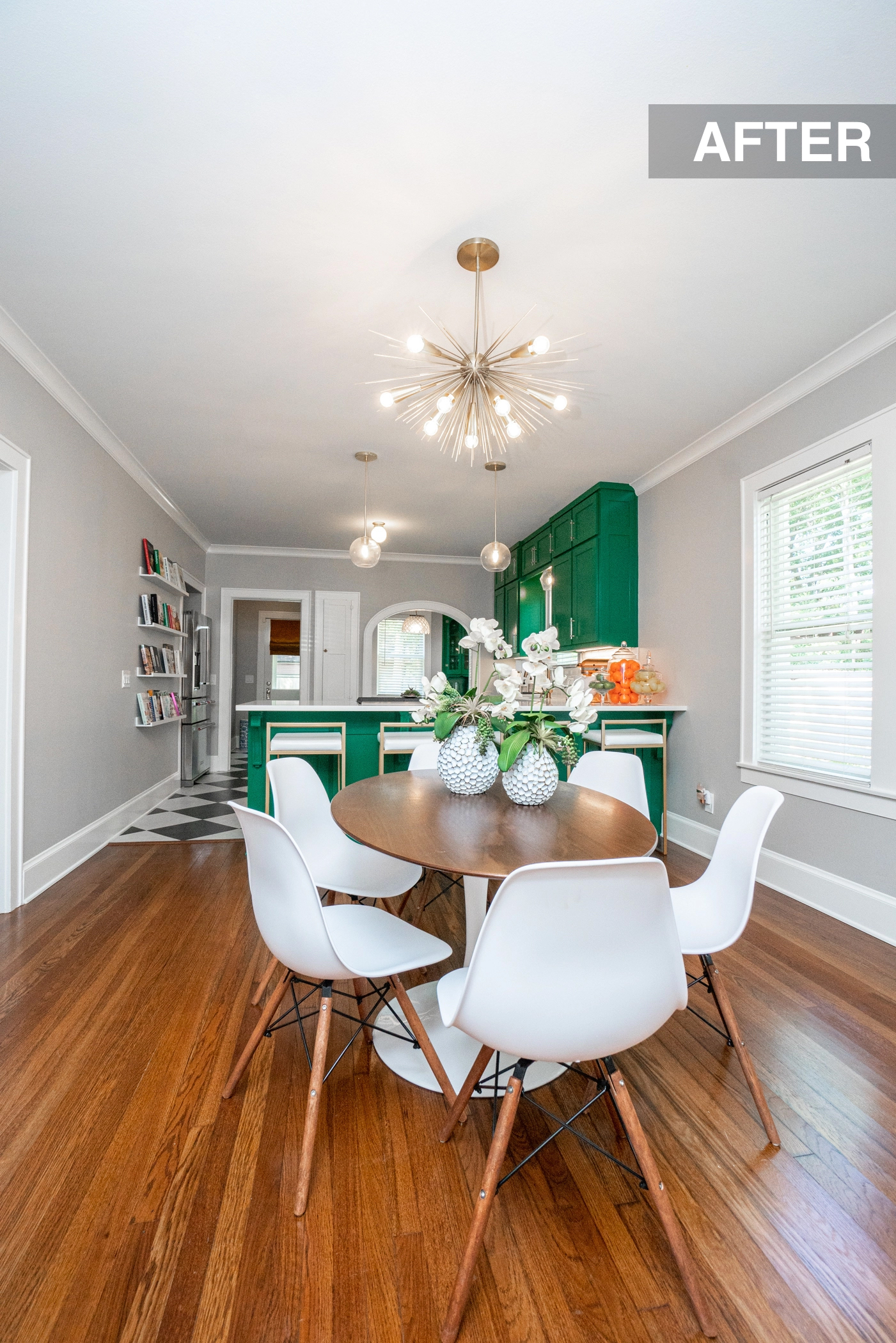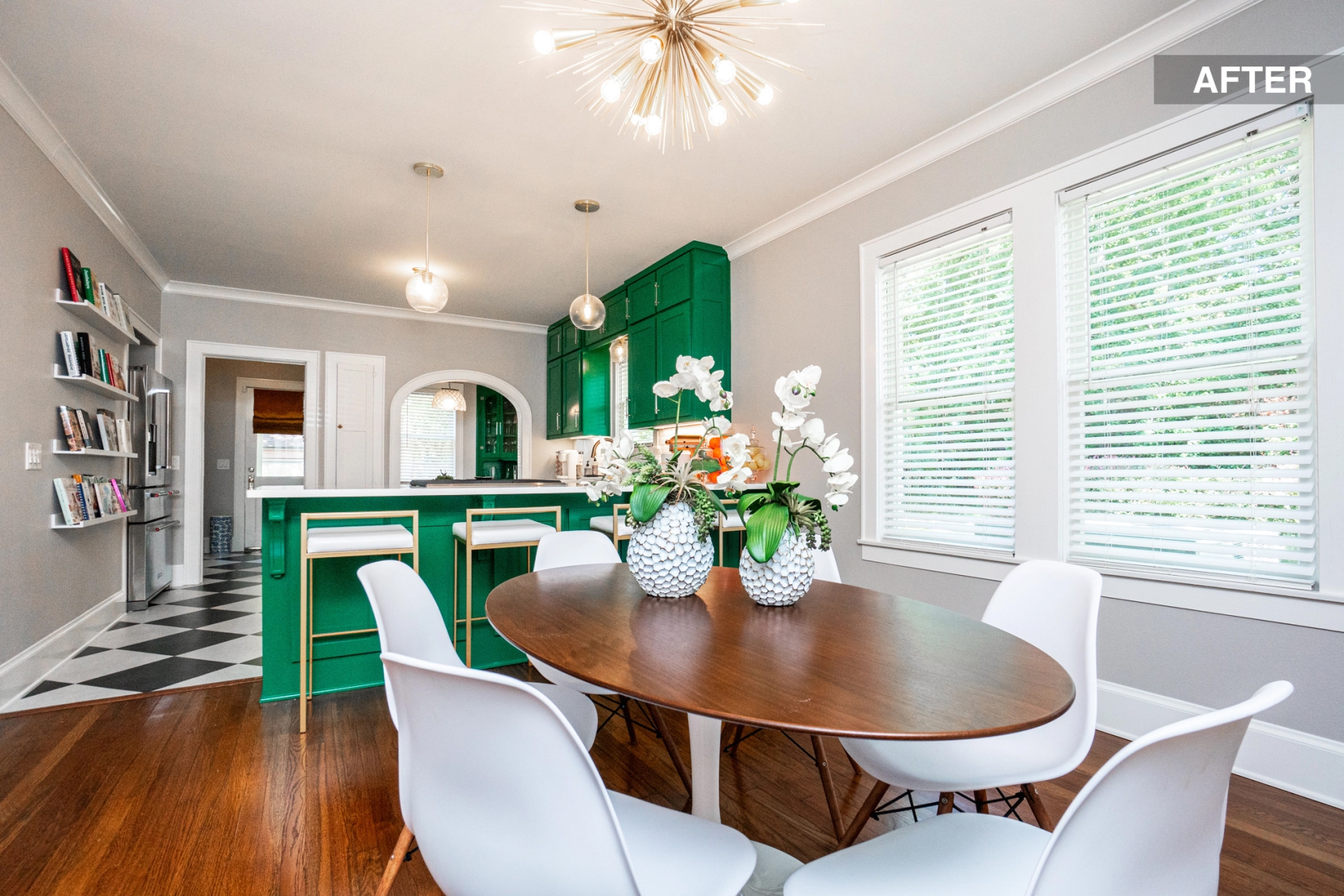 What a difference a torn-down wall can make! I'm so lucky that there are huge windows throughout the home to give so much natural light, but also that it takes up wall space and means… less decor needed! Yes, I can get lazy with it sometimes. I found the half-sputnik light to be the perfect pop to the dining room, without overpowering the space. The ceilings aren't tall enough for me to allow a fully rounded sputnik or really any type of larger light fixture. It's an attention grabber, but not overwhelming!
When it came to choosing a table, I really measured it ALL out! I wanted an oval shape as a rectangular table just would have felt too overpowering. I do wish the table could be a little wider, but there's nothing saying I can't keep the base and replace the top.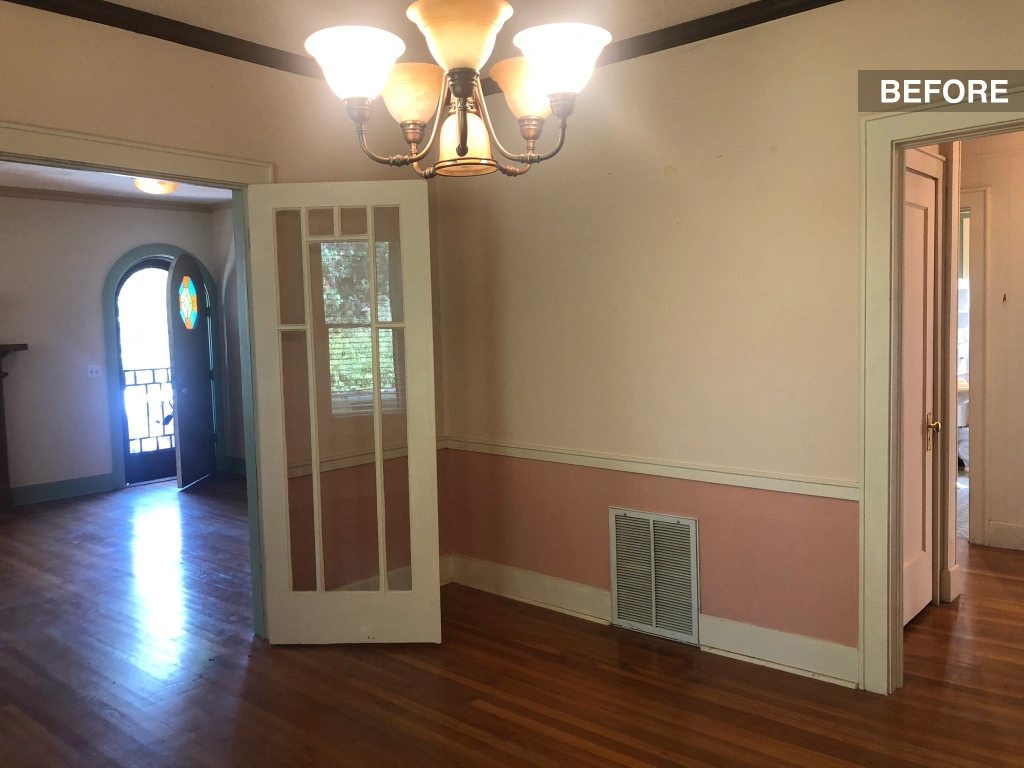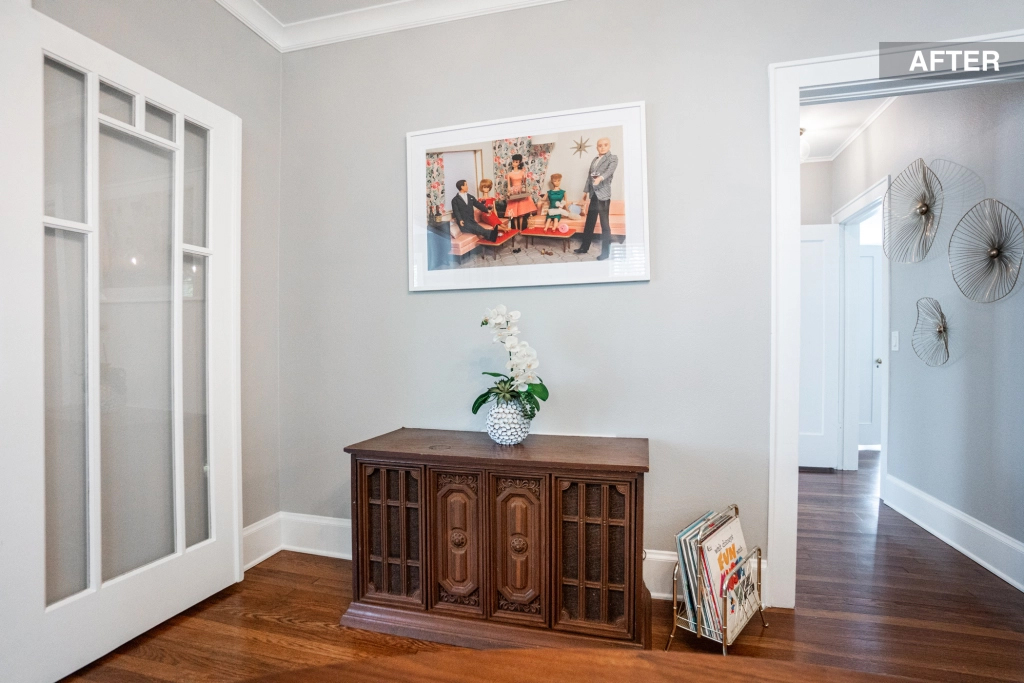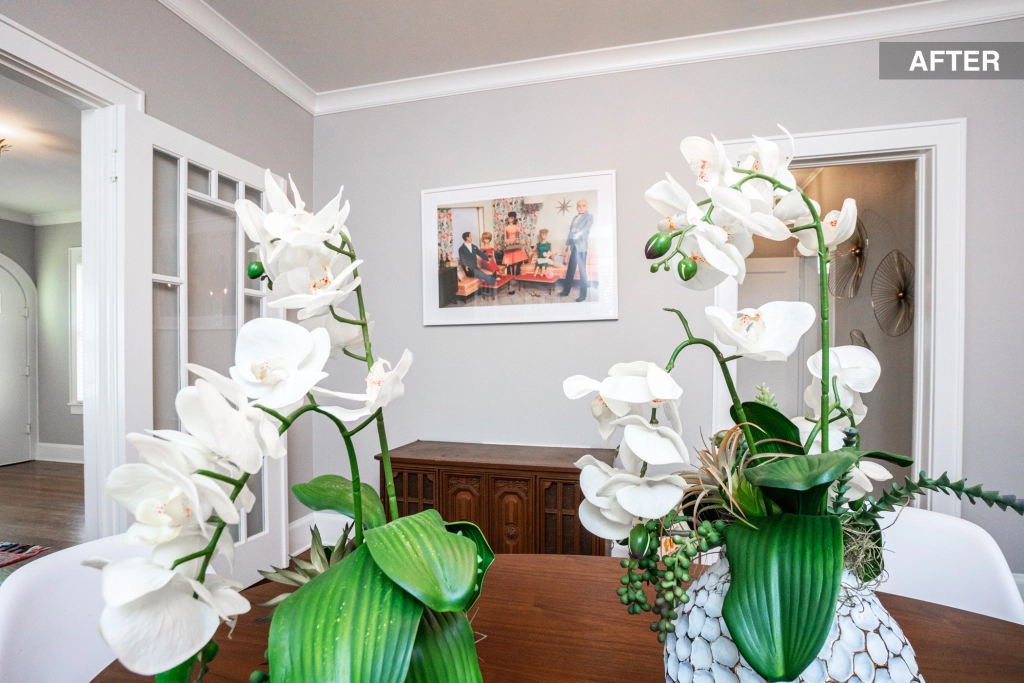 One piece of furniture that I was most excited to find a space for was this beautiful antique record player. This was my Grandmother Nolan's record player and I remember it from my childhood and have always loved it. It was originally going to go in the entrance of my home where you saw it as soon as you walked through the front door, but it sat too low. We transitioned it to the dining room and it was like it was meant for that spot, especially with the Ken and Barbie picture! I mean… how fun is that print?!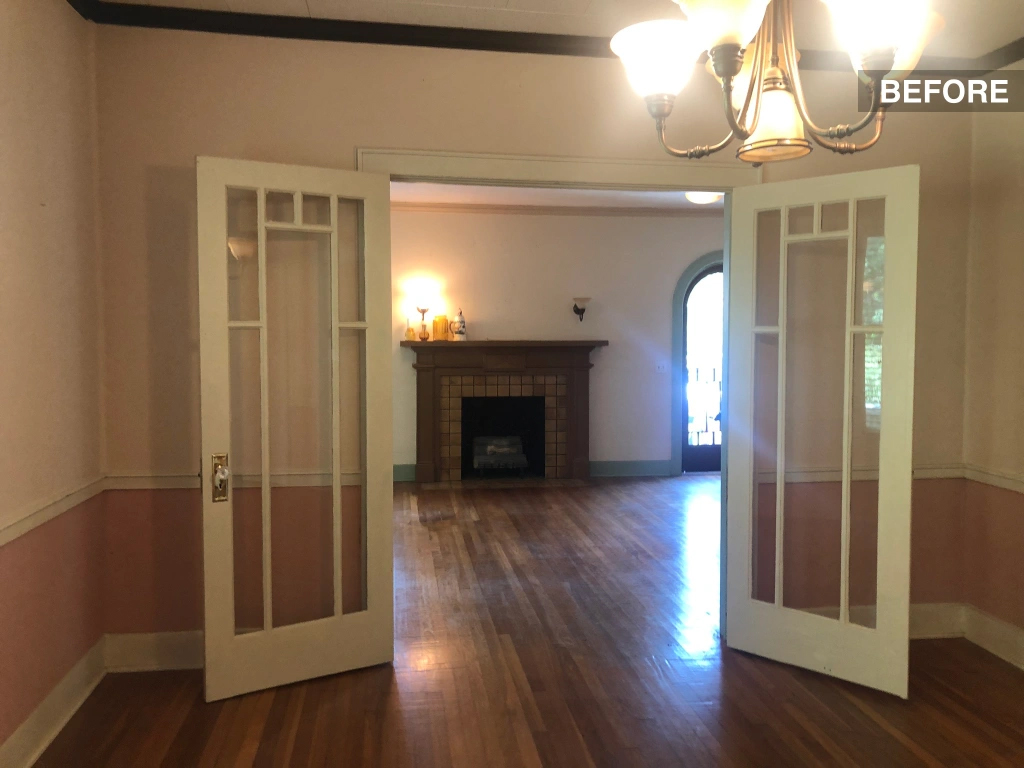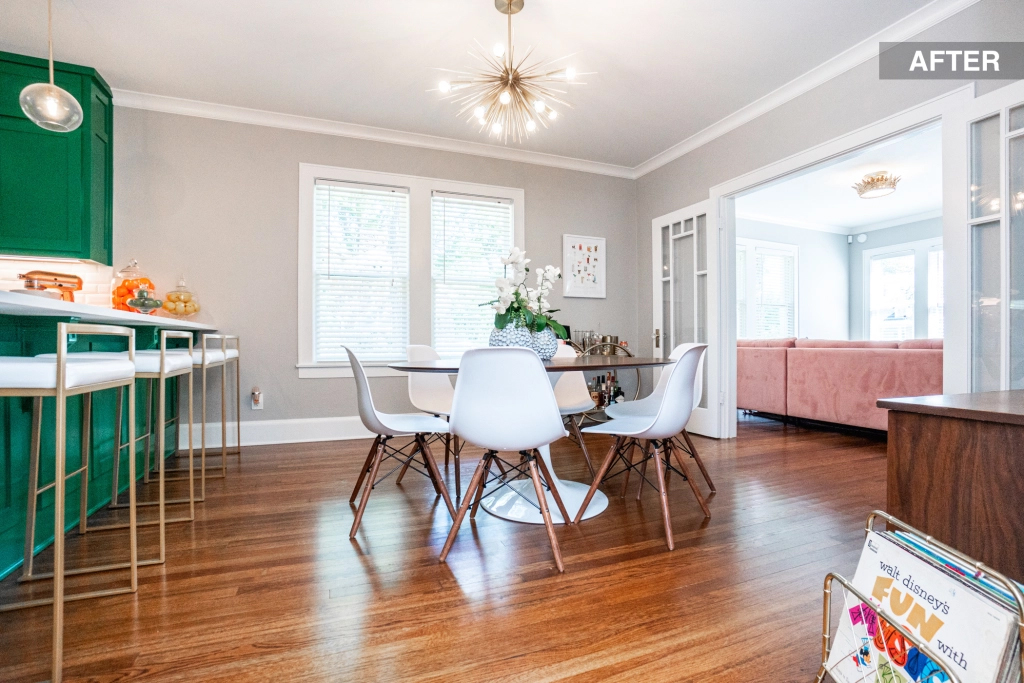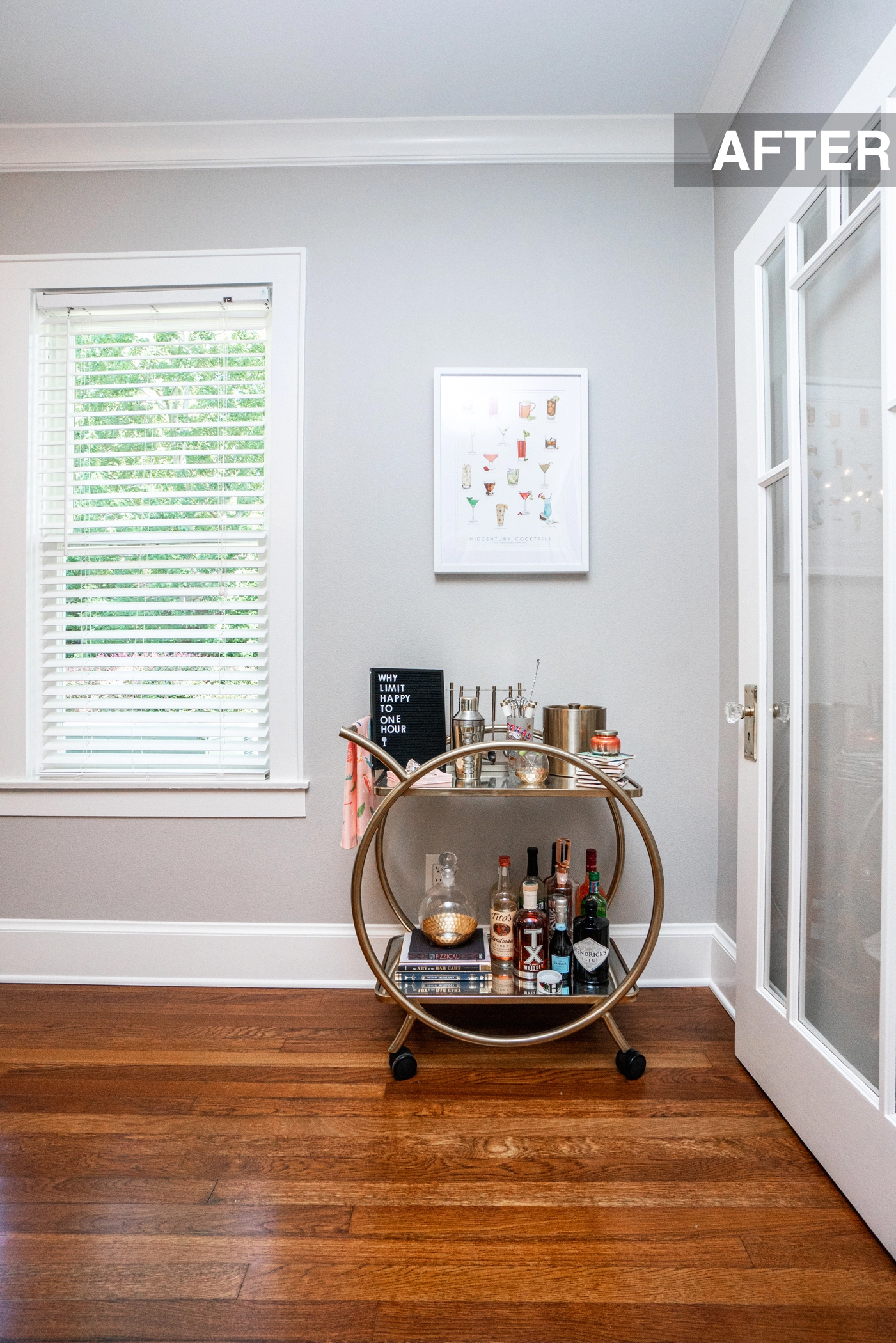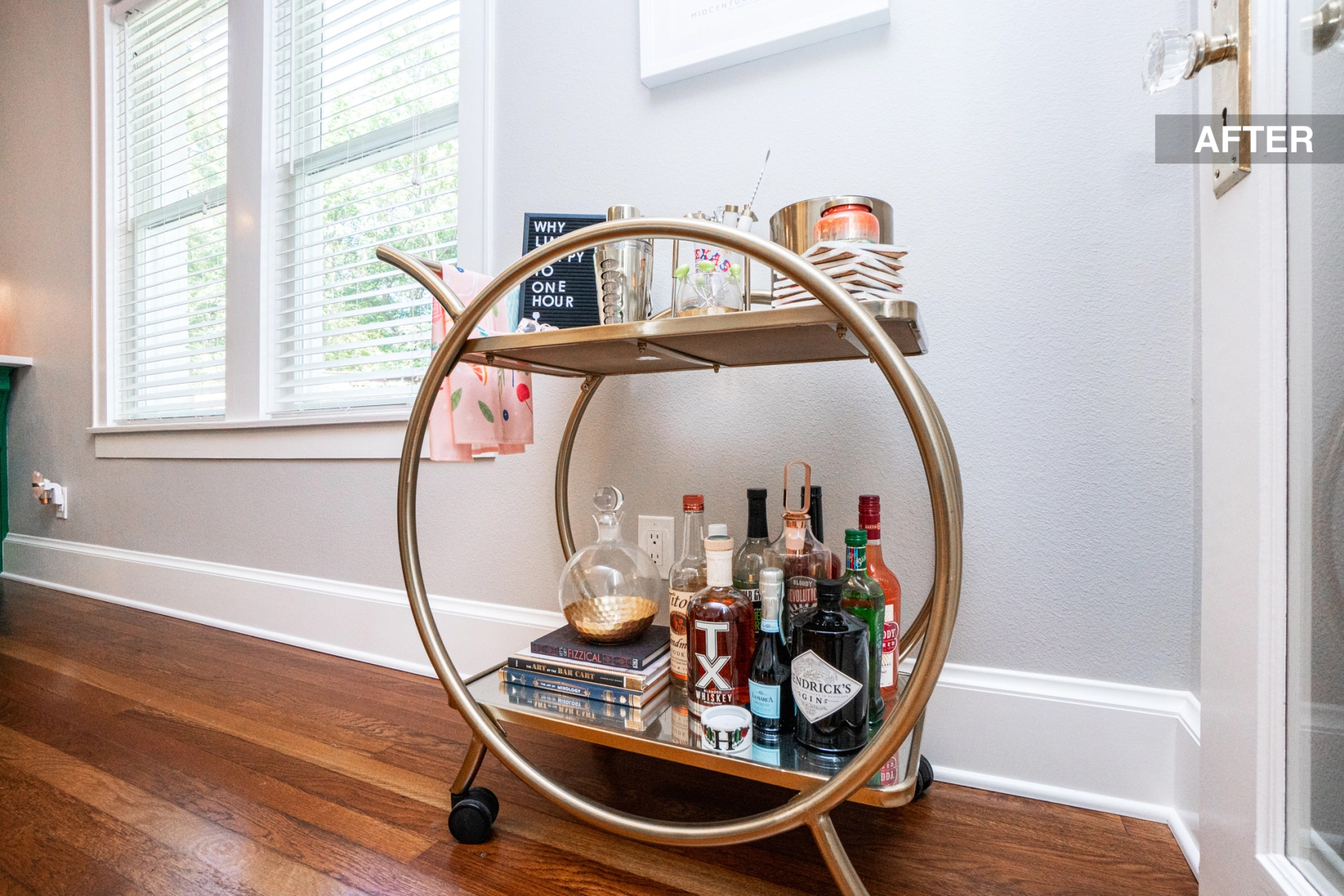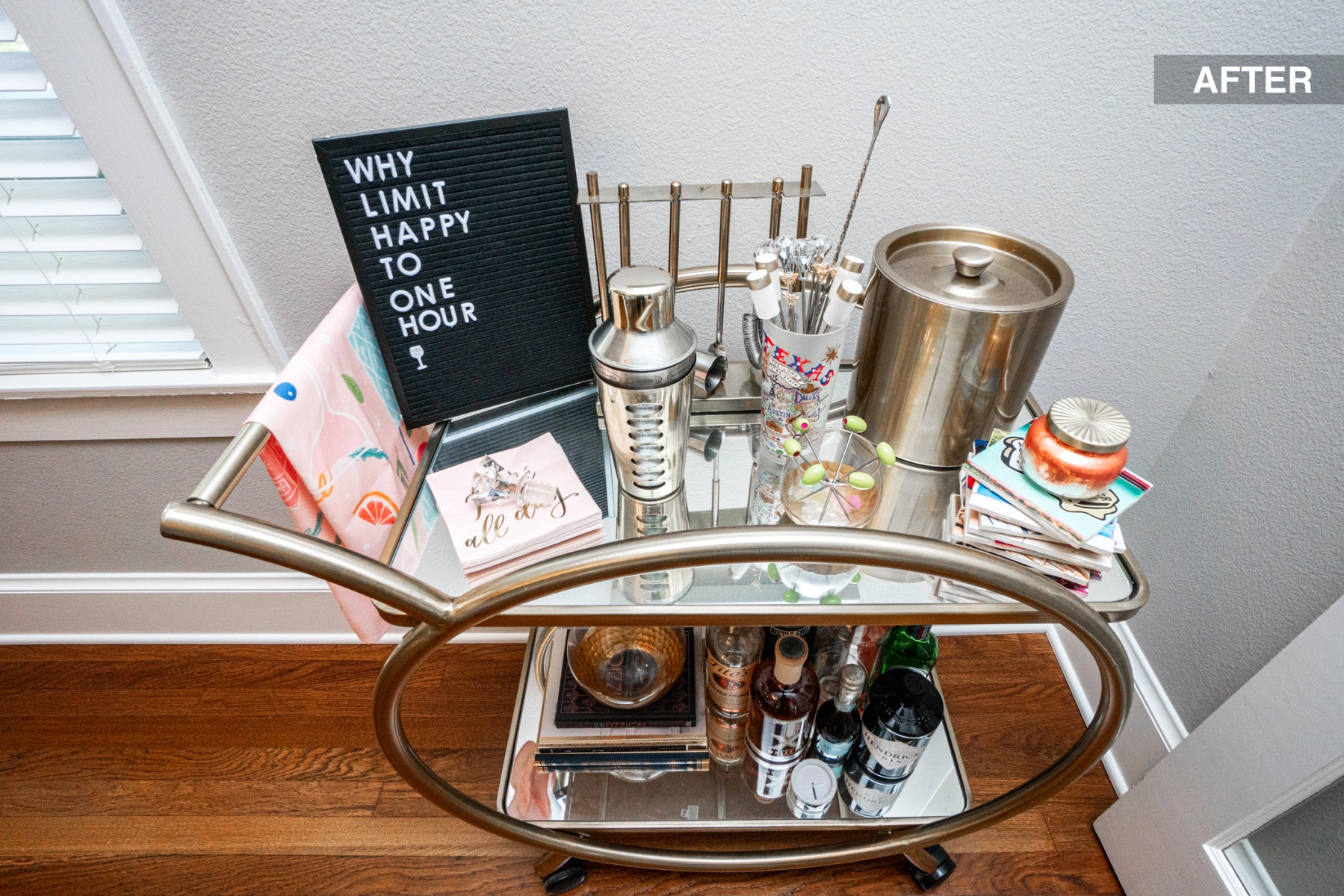 The doors that go from the dining room to the living room are the originals – including handles and all! I thought they were so pretty yet so perfect to close off a space, if needed. During the quarantine, my older sister would come do webinars in my office space and I could close myself off in the living room by shutting these doors and we wouldn't hear a peep from each other.
I also knew that with my very minimal space for storage in The Dollhouse, a bar cart would be a necessity! They're cute, but also can store quite a bit of bar essentials instead of being hidden in a drawer and never used. Big shoutout to big sister Ilissa for getting me all the cute accessories and setting it up! We do useful gifts for each other around Christmas and I told her I wanted her to outfit my bar cart and she crushed it!
THE BREAKFAST NOOK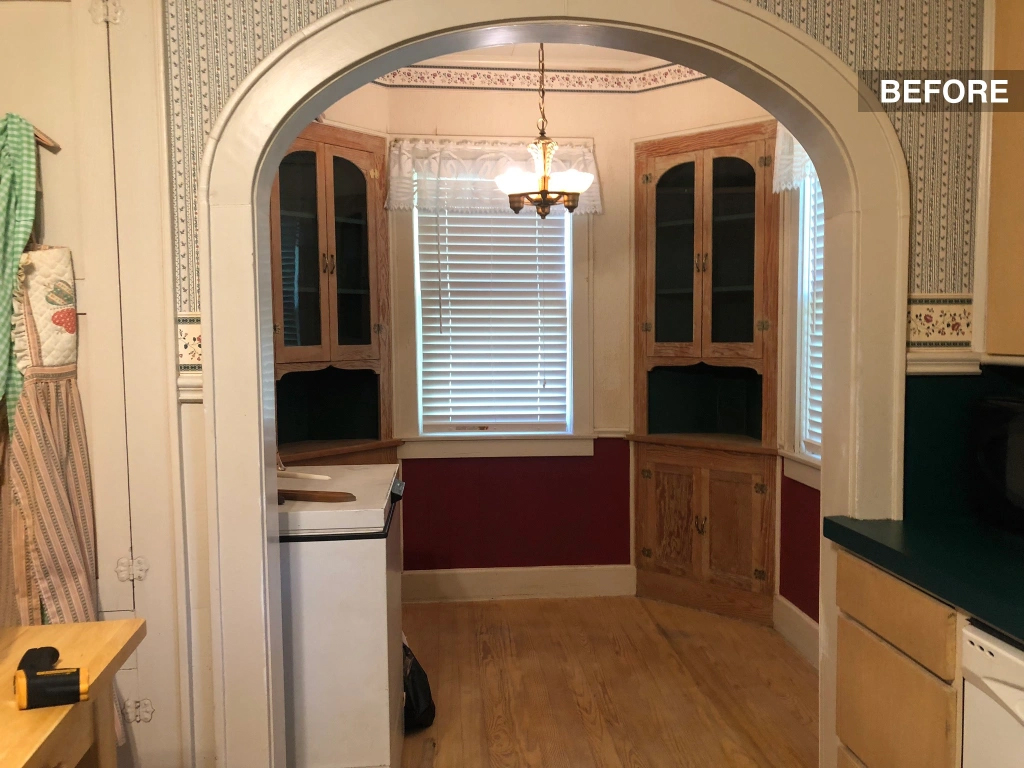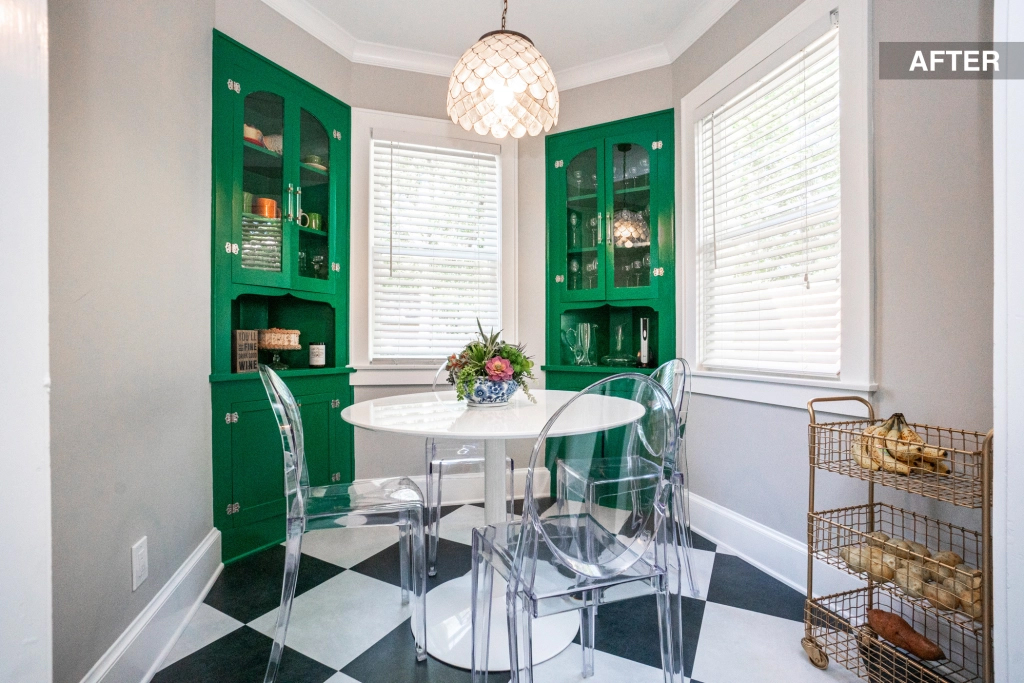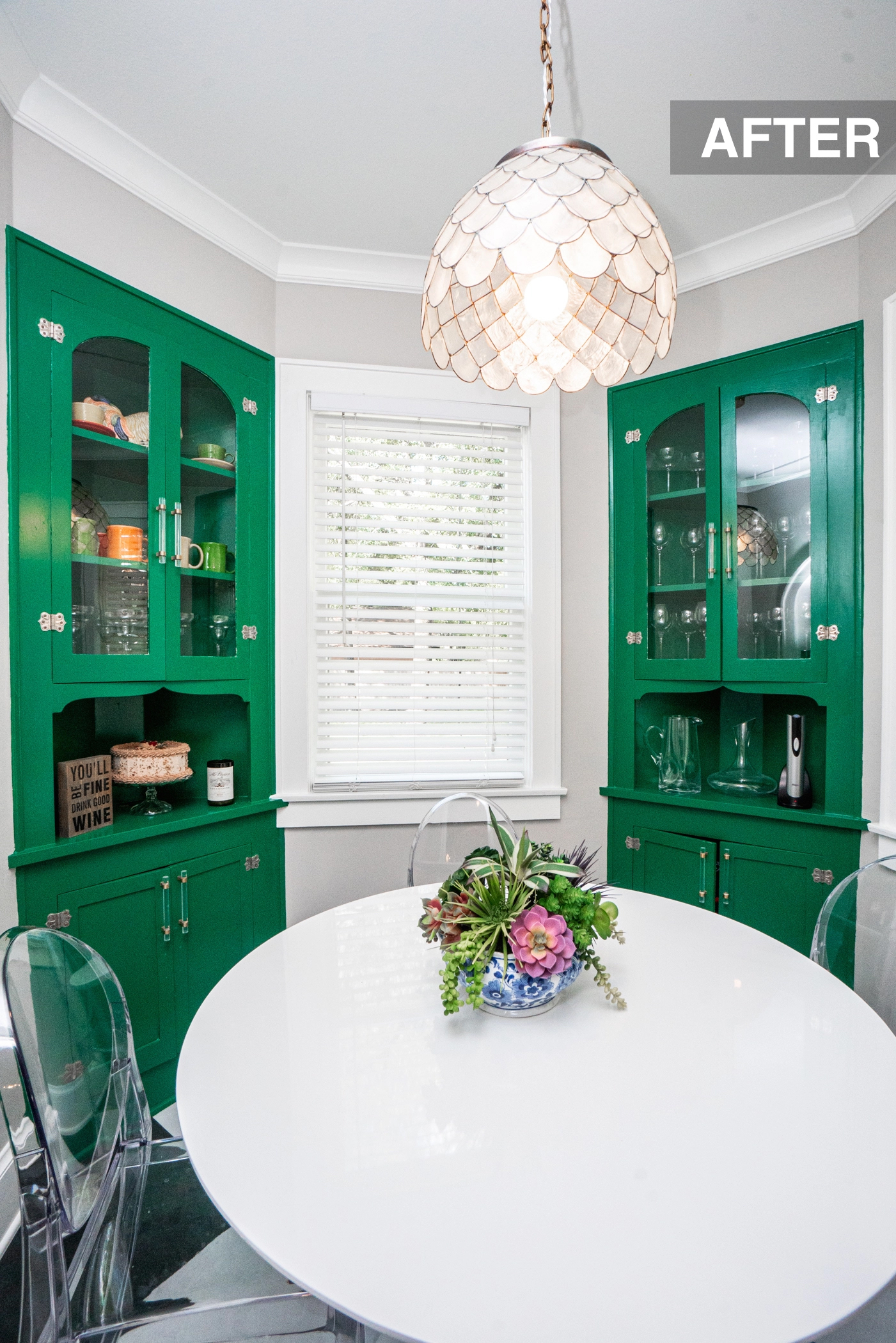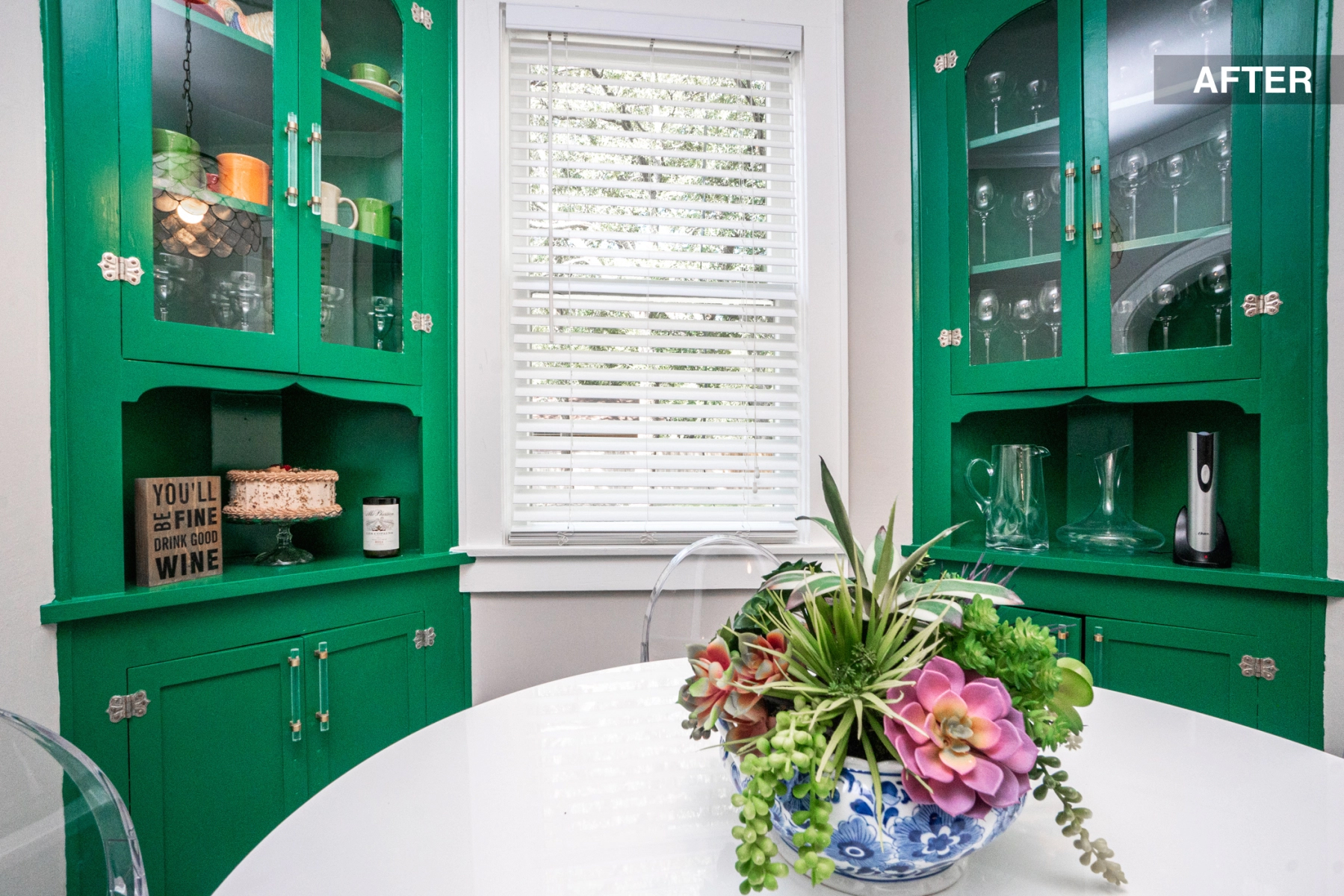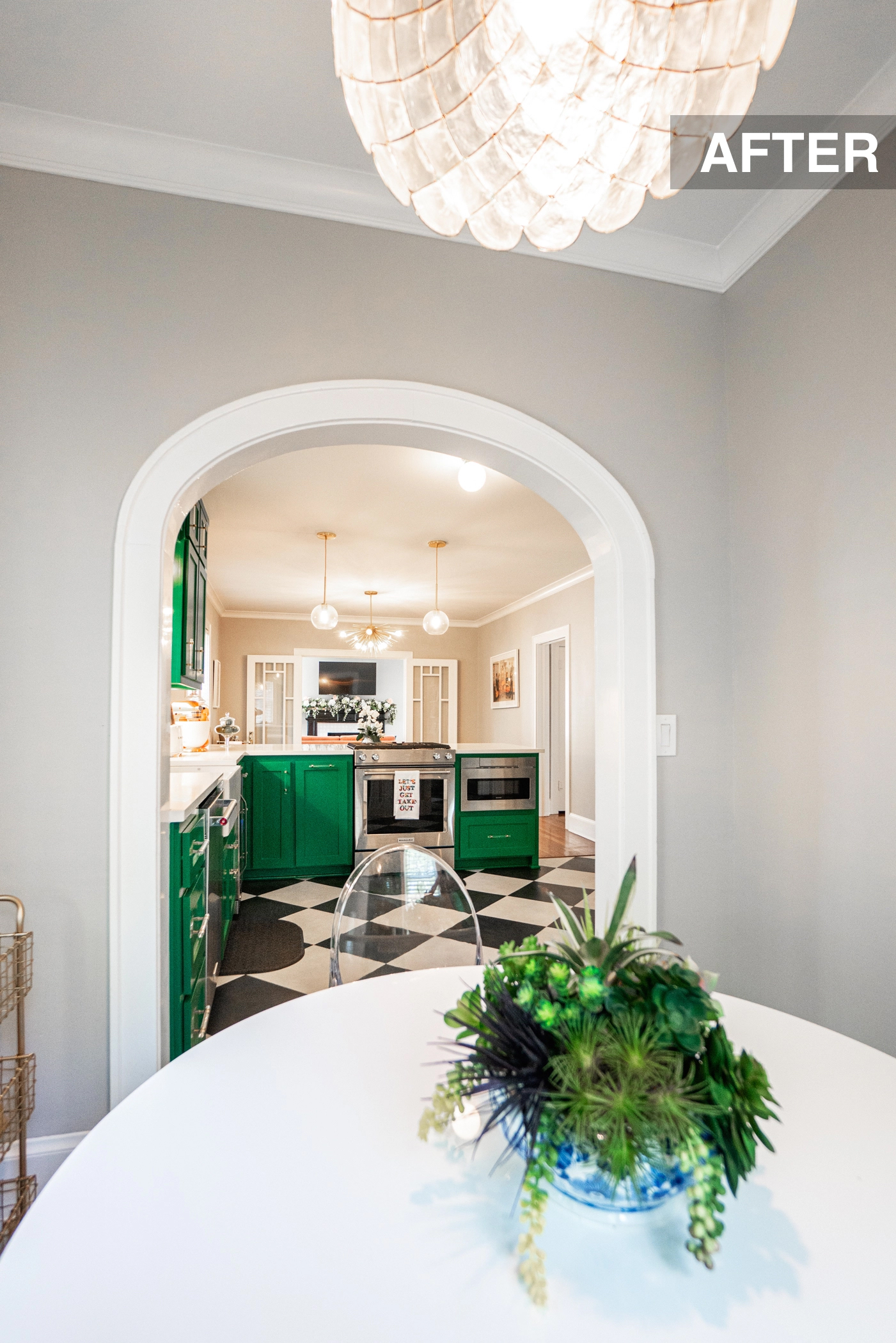 This breakfast nook is just the cutest little space. I was so lucky that it already had its built-in storage that I could take advantage of – it just needed a little TLC from paint to handles and I had the electrician's add-in plugs hidden in the bottom cabinet so I had a place to charge my electric wine opener and potentially add in holiday decor. I've learned – the more plugs in a home, the better. I'm still finding spaces where I'm like "aghhhhh I should have put a plug there!!"
The cabinets in my breakfast nook needed pretties to be displayed so I decided that would be a great space for my wine and cocktail glasses along with some of my colorful coffee mugs. Since the cabinetry was going to match the kitchen, the furniture needed to be simple. I really, really wanted acrylic chairs somewhere in my house and it really helped make this room look and feel a little more open than it really is. If the cabinetry wasn't already in this room, I would have loved to make this a booth-style space with build in seating and cushions with a much larger table, but I totally love the way this space turned out!
I do still plan to add wallpaper, but all of the ones that I love are peel-and-stick only. My father refuses to put in peel and stick as it's not permanent and will roll up over time. I get it, so I'm just being patient until I find the perfect print!!
My dining room and breakfast nook are such a fun space that just needed a little bit of love and lots of fun decor. Now that you've seen all of my entertaining spaces… what do you think will be next?